Nigel Lythgoe Reveals Changes to So You Think You Can Dance Season 7 Including All-Star Dancer Pool
Nigel Lythgoe Reveals 5 New Things About SYTYCD 7!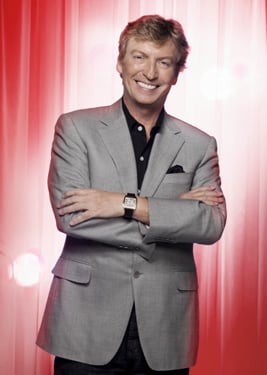 So You Think You Can Dance is shimmying on in with its seventh season on May 27, but there's a lot that's changing about the reality show. Judge and creator Nigel Lythgoe hopped on a call with reporters today to talk about the big format shake-ups, and I'm laying out the most important things for you right here.
There will only be a top 10 when the show starts, and the dancers won't be paired with each other. Nigel says, "There's going to be a top 10 and that will come out of Vegas. Each week they will only be leaving one at a time. They are changing partners every week; we are going to put together a pool of ex-So You Think You Can Dance all-stars, some of our favorite dancers from across all six seasons and they will act as a pool of dancers. The competitors, now, instead of drawing the genre of dance out of a hat, they will pull a photograph of one of the all stars and that will dictate the genre of dance they're going to be dancing. For instance, if you were to pick Fred Astaire out of the hat, you would see that you're going to be doing foxtrot that week. But it won't be Fred Astaire, it'll be one of the previous dancers on So You Think You Can Dance, but I will not be revealing their names today. There will be a pool of them and they of course will not be judged. . . they have to change every week."
Both Mia Michaels and Mary Murphy are back!
"[Mary] She is judging and she's choreographing this year. And Mia will do again in the future. They'll both be choreographing, they'll both be judging."
To hear three more bits of SYTYCD info, just read more.
The all-stars have been chosen for a specific reason in mind: "They had to be dominant in their genre of dance, because they are the ones who are going to dictate what the competitors are going to dance. In other words, if you had, for instance, Twitch, you wouldn't want to do ballroom particularly — you wouldn't want to do Viennese Waltz, bless him."
The reason for the changes was to make the show more exciting and to use the talented dancers from past seasons. "We do a tour and we can't ever really re-invest in our dancers. We try and bring some of them back as choreographers, but to be able to do this and use our own stars I think was a fabulous idea. So the only reason we're doing it now is the fact that it's a great idea that no one's really thought of before. I'm so excited by it, to be frank."
Nigel is still trying to get Paul Abdul on the show. "I tried for an entire season to get Paula on in full view of the nation, pushing that bloody chair around. I will still try this season, yes, I don't think I will be so overt with it. But I love Paula to death . . . I think she is an absolutely fabulous, caring judge. Don't always understand what she says, and I don't care about that. I know that she's coming from a heartfelt place I think that she is somebody who knows exactly what she's talking about in dance terms. She was a dancer, she was a choreographer, she's had the experience of being a judge, and I can't think of anybody better than Paula Abdul to judge on this show."
You can follow Nigel's Twitter account to find out who the all-stars are — he's revealing them one at a time over the next couple of weeks.