A Nightmare on Elm Street Movie Review Featuring Kellan Lutz and Katie Cassidy
A Nightmare on Elm Street: For Freddy Fans (Only)
This movie review comes from my girl FabSugar, who's a horror movie enthusiast and expert.
I am an Elm Street junkie. Freddy is my all-time favorite monster, I own the Nightmare on Elm Street Collection, and I have a backup Freddy Krueger Halloween costume ready and willing. When Buzz revealed a remake was in the works, I was skeptical, as any expert would be.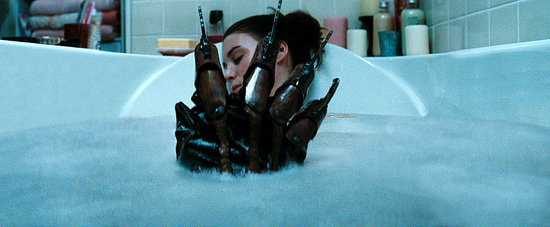 The new A Nightmare on Elm Street is entertaining for non Freddy fans, and exciting for Freddy fans. I viewed the movie with two people who'd never seen the original. Their general thoughts were: the opening scene rocks (really draws you in), Freddy isn't very scary, there are more jumps than actual chills, the performances from the young cast aren't half bad, and the closing scene rocks, too.
But to hear a seasoned Elm Street vet's review,
.
No one can ever replace Robert Englund as Freddy. Jackie Earle Haley makes a good attempt, but he's not as gory, nasty, and funny as the original Freddy. Unfortunately, modern day effects created a slightly robotic Freddy voice that was lame. As well, you cannot reenact originally epic death scenes. Though it was cool to experience the classic Freddy claw bathtub scene and the bedroom rag doll scene again, these are pieces of art that cannot be imitated. Nonetheless, it was fun for the freaky eye. Modern day elements like video blogs and cell phones weren't annoying, but they weren't memorable either.
The hot young cast was impressive. Rooney Mara as Nancy was a good fit, and modern-day Nancy is more artsy, less dorky, than the original. Every scary movie needs a hot jock and sexy blonde: enter Kellan Lutz and Katie Cassidy. Then you have a couple cute and tormented brunette boys who are easy on the eyes as well.
Now for my favorite aspects of the film. One: the original Elm Street premise is the same — no messing with perfection here. But there are nuanced pedophile undertones that could disturb the sensitive viewer. Two: the dream sequences are thoroughly enjoyable. The movie gets to a point where the kids are so strung out they can't separate dreams from reality, and it makes for a fun psychological ride. As for my least favorite aspects: Freddy isn't freaky and there isn't enough blood. It's not a true nightmare unless there are oceans of blood.