Nikita and Hellcats TCA Panel
Nikita and Hellcats Take the TCA by Storm
The Gossip Girl panel was the main event for The CW at the TCA yesterday, but we also got a closer look at the network's spankin' new series. Shane West and Maggie Q took the stage first to discuss Nikita, followed by Ashley Tisdale and Aly Michalka representing their cheerleading series Hellcats.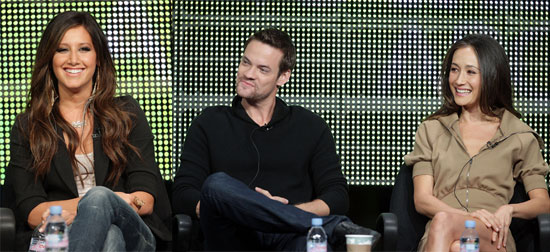 Getting into shape to play kickass assassin Nikita has been all work and no play for Maggie Q, who said, "I don't do anything but sleep when I'm not working. I have no life. I'm no fun. All I want to do is sleep and get ready for the next day. It's awesome."
Girl power was a popular theme on the Nikita panel, with producer McG noting, "I think we're all very excited about the notion of empowered female characters, and we like those shows . . . it's just I like the idea of empowered female characters that don't apologize for being beautiful, but are very, very intelligent and multidimensional, and I think Maggie nails that voicing."
Fun fact: Maggie Q first started training for action movies in Asia for films produced by Jackie Chan.
Maggie also gushed about Angelina Jolie when asked which female action stars she idolizes: "What I like that's happening right now in films in the action genre, which didn't happen before, was they're using incredibly credible actors now in these big action roles. You see Angelina Jolie in a movie like Salt and she's very believable, but not because she's super tough or has more muscles than the next girl. She's an incredible actress, and that toughness comes from a place that's very internal, which is the reason why she's so good at what she does."
For highlights on Hellcats, just
.
The Hellcats panel brought us back to the typical CW: pretty young things getting into silly drama. This time around, the focus is college cheerleaders led by Savannah (Ashley Tisdale) and joined by rogue newbie Marty (Aly Michalka).
The critics couldn't help drawing a comparison between Savannah and Tisdale's other famous character, High School Musical's Sharpay. However, Tisdale was quick to illuminate the difference between the ladies, saying that Savannah is more of a team player while Sharpay is out for herself.
Michalka doesn't have any cheerleading experience, but she does have extensive dance training. That said, the showrunners made sure to address that the series isn't trying to be the next Glee — they aren't expecting audiences to tune in solely for the three minutes of dance sequences.