Now You See Me Review
4 Reasons You Should See Now You See Me
In Now You See Me, four magicians (played by Jesse Eisenberg, Isla Fisher, Woody Harrelson, and Dave Franco) use their skills to rob banks and wealthy bank accounts — and their magic touch leaves a detective (Mark Ruffalo) on their trail and just trying to keep up. The heist movie may not be on your radar as a must-see yet, but it should be — the action flick is a cool-looking, highly entertaining adventure. Here are the reasons why you shouldn't miss Now You See Me.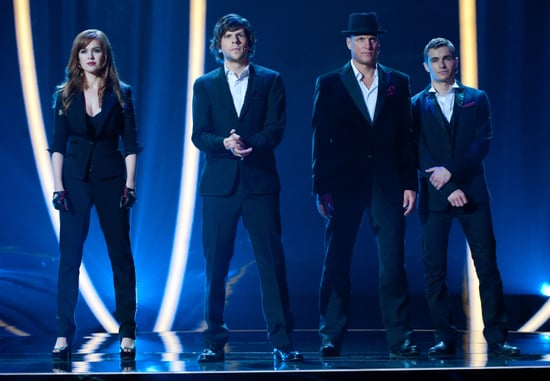 The Twists
The plot seems pretty straightforward from the trailer, but there are twists galore. To say much more might take away some of the fun, so suffice it to say that there is a lot going on — and plenty of surprises you won't see coming. Sure, at the end you may notice some plot holes, but you'll have had too much fun to care.
The Spellbinding Ensemble Cast
Fisher, Eisenberg, Franco, and Harrelson have good chemistry as the Four Horsemen, the stage name of their troupe. It may be an action thriller, but Now You See Me is still light, thanks to the cast's subtle humor and the script's wit. While the Horsemen often have the spotlight, it's Ruffalo's character who we spend the most time with as he tries to figure out how the magicians are tricking the world. While Ruffalo's character is much more straight-laced than we're used to seeing him, he still brings that signature charm, even when he's frustrated and being left in the dust.
Get the other two reasons after the jump.
The Illusions
It doesn't matter that you know it's movie magic; the tricks the Four Horsemen pull off are dazzling. Fisher's character Henley escapes from a water tank, Jack (Franco) throws playing cards like an expert knife-thrower, and the money-disappearing act the group does in the stage show is a head-scratcher. Don't worry: you find out how they do most of their stunts, but everything looks so awesome that you won't want to blink. Which brings me to Now You See Me's next trick . . .
The Amazing Visual Effects
There needs to be good visual effects to make the tricks look believable, and director Louis Leterrier is up to the task. The special effects are so well done and the stunts are well choreographed, so nothing looks too CGI or cartoonish, just bold and inventive.