The O.C. Stars Interviews For 10th Anniversary
The O.C. 10 Years Later: How the Stars Are Looking Back
This week marks the 10th anniversary of the premiere of The O.C., and we're not the only ones who are looking back — the actors from the series have been reflecting about the show as well. Rachel Bilson shared a video of one of Summer Roberts's most memorable lines, Olivia Wilde tweeted about her memories of bronzer, and Adam Brody and Tate Donovan both spilled their guts in recent interviews. Check out how the actors have been looking back on their O.C. experience 10 years later!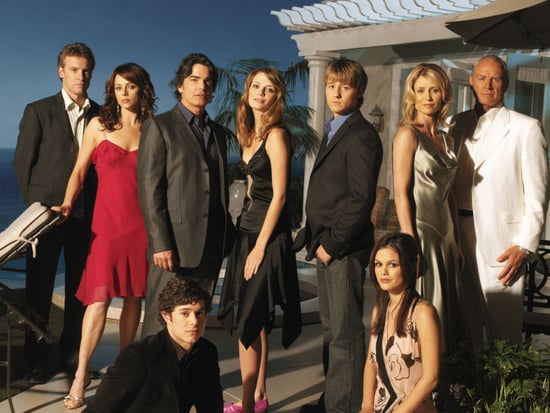 Rachel Bilson (Summer Roberts)
Olivia Wilde (Alex)
Has it really been 10 yrs since we soaped up tv screens with The OC? Jesus. Was that legal? I remember lots of bronzer and kissing.

— olivia wilde (@oliviawilde) August 6, 2013
Josh Schwartz (creator)
As I recall the bronzer was your idea...@oliviawilde

— Josh Schwartz (@JoshSchwartz76) August 6, 2013
Adam Brody (Seth Cohen)
Peter Gallagher (Sandy Cohen)
The tenth anniversary of #THEOC! Bagels and schmears for all! Many thanks for the kind words. We were a lucky bunch. Cheers!

— Peter Gallagher (@petergallagher) August 5, 2013


Get the rest of the cute responses after the jump.
Tate Donovan (Jimmy Cooper)
Josh Schwartz
Californiaaaa… there we went. Happy 10 yr #theOC. Here's the first commercial for the show! https://t.co/3Un8QzXkM6

— Josh Schwartz (@JoshSchwartz76) August 5, 2013
Kelly Rowan (Kirsten Cohen)
Thank you all xo. Loved playing Kirsten. Cheers! Happy Tenth #THEOC

— kelly rowan (@KellyRowan) August 6, 2013
Autumn Reaser (Taylor Townsend)
Really enjoying all this 10th anniversary #OC buzz today! Thanks, everyone!!

— Autumn Reeser (@autumnreeser) August 5, 2013