Octavia Spencer Calls Oscar Win "Fan-Effing-Tastic"
Octavia Spencer Calls Her Oscar Win "Fan-Effing-Tastic"
Octavia Spencer completed her award season sweep with the Oscar for best supporting actress for her role in The Help. After giving a very teary speech on stage, Spencer dried her eyes and cracked jokes back in the press room. She talked about how humbled she is by her win, her deep love and respect for her cast mates, and why you can't take yourself too seriously in showbiz.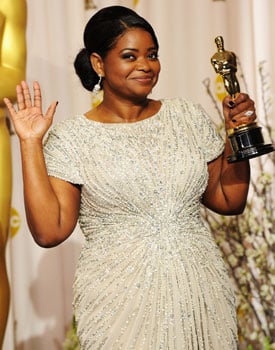 On the tone of the film: We wanted to make the movie that Kathryn Stockett had envisioned when she wrote the book. I don't think there's anything lighthearted abut the civil rights movement, but if you can have a laugh every other 10 minutes while you watch the struggle, then I have no problem with it.
On her upcoming plans: Tonight I am going to find my cast mates and I'm actually going to have a quarter of a glass of champagne and hang out. I think we all start projects within the next couple of days, but I'm just gonna live in this moment because lord knows it's never gonna happen again.
On what the cast meant to her: It's very rare that you have the type of ensemble that we had. You don't get all the Academy Award nominees and winners coming together to do a project. And then you have the collaboration of Academy Award nominees behind the scenes. We just left our egos at the door and worked together as one beautiful unit. It was an award-winning cast. So to be a part of that, and to just sort of dissolve into the world that we were representing is something that we're supposed to do as actors, but it was rare that we did it without judgment of each other.
On her love affair with The Help: The word I want to use, I can't. I want to say fan-effing-tastic. But we'll leave the "effing" out. Fantastic. It is humbling, the love affair I have with The Help. I'm a benefactor of all of the riches that the real life Minnys, Aibileens, Cosntantines, Skeeters, that they basically reaped. And so I am very humbled because I get to stand here and accept this award and I haven't really done anything.
On what she was feeling at the moment she won and advice: Really and truly I was just trying not to fall down. This is one of those evenings in my life that I'll never forget. I hope it's the hallmark for more aspiring actresses of color, and by color I don't just mean African American. I hope that in some way I can be some sort of beacon of hope. Especially because I am not the typical Hollywood beauty.
On her advice for aspiring actresses: Get a great designer because you don't know if you're gonna be on TV or not. I think that you have to believe in yourself, and you have to work very hard. You can't think that you're the best thing that sliced bread, because there are going to be Viola Davises, Jessica Chastains, Emma Stones, who are the best things since sliced bread. Take it seriously, but don't take yourself too seriously.
On her dream role: I don't have one role that I want to play. I guess I want to be a producer. I want be an activist. I want to be proactive in bringing about work for men, women, boys, girls, that are good at what they do and deserve a shot at it. I want to have a presence behind the scenes and in front of the camera. I want to be a jack of all trades and hopefully decent at one of them.