The Office Holiday Episode "Classy Christmas" Recap
The Office, "Classy Christmas": Best Lines of the Night
I'll admit I was leery when I first heard that The Office's holiday episode was going to be a full hour. Call me a Scrooge if you must, but seeing as how the series has been hit or miss, doubling the regular time slot seemed like a terrible idea. But the morning after The Office, I'm a believer. This episode was good — really good. It balanced just the right amount of silly humor with seasonal sweetness.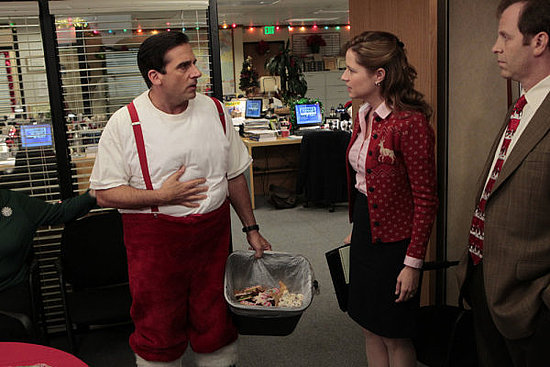 Michael Scott dons the Santa suit once again, but plans for the regular office party get upended when Toby announces that he's doing jury duty for the Scranton Strangler case. In his place, corporate is sending Holly, which puts Michael in a frenzy. He plans a swankier shindig in her honor, but when she shows up, Michael makes a disappointing discovery: Holly and her boyfriend AJ live together. All is not as bleak as it seems however. Holly reveals that she's giving AJ an ultimatum to propose, so Michael may get his happy ending yet.
Meanwhile, Dwight spends the episode taunting Jim. The guys agree to duel with snowballs, which escalates into Dwight assaulting his enemy. But don't feel too terribly, because Jim still has a nice Christmas thanks to Pam's sweet gift, and it's kind of nice seeing Jim being more vulnerable than usual.
That's what the holidays are about, people: helping your fellow man, family, and snowball fights. I've said enough, but let's chat about a few of the funny lines when you read more.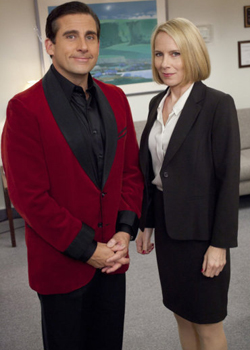 "I have no feeling in my fingers or penis, but I think it was worth it." — Dwight, after attacking Jim with snowballs
"It looks beautiful in here, super classy. It's like a party for limousine drivers." — Holly, commenting on the office's holiday twinkle lights (it does look like the inside of a limo!)
"That is a great idea, ultimatums are key. Basically nobody does anything for me anymore unless I threaten to kill myself." — Kelly, doling out advice to Holly
"Yes, I have a wig for every single person in the office. You never know when you're going to need to bear a passing resemblance to someone." — Dwight, who uses his extensive wig collection to pose as Pam and fool Jim
"Wait, wait guys, listen. Toy Story is all about toys that come to life when people aren't looking. You don't think . . . it's not possible . . . that Woody did this to himself?" — Kevin, trying to justify why Holly's Woody doll is damaged with coffee
What did you think of the episode? Did it put you in the holiday spirit? Share your opinion below or head over to The Office community group to chat more!