The Office Recap "After Hours"
The Office, "After Hours": Best Lines of the Night
In this week's The Office episode "After Hours," half the crew is at home in Scranton, but the project committee is still working down in Tallahassee. While the night is full of solid comedy, there's a lot that goes down. Darryl does his best to tell Val how he feels, Pam and Jim's relationship is tested, but the focus of the episode is really on Dwight's desperate attempt to get a big promotion.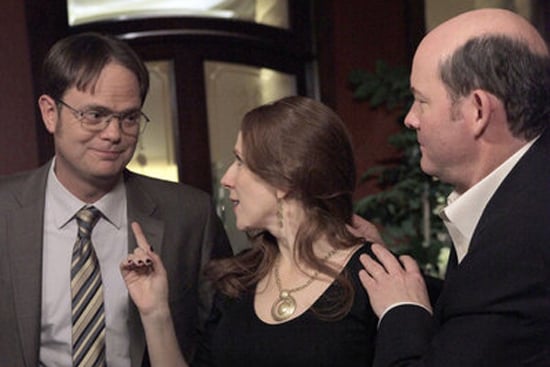 No hard feelings toward last week's episode "Tallahassee," but I had pretty low expectations going into this week, and I was pleasantly surprised by all of the funny dialogue. Learn my favorite lines from "After Hours" after the jump.
"Like her genes are so important. The world just needs more Pam/Jim DNA. Thank you, no." — Oscar, on Pam complaining about her two kids
"I've got a great drinking game. Everyone, empty your pockets. Whoever has the most seeds is the king and whoever has the least buttons is the hunchback." — Dwight's drinking game doesn't sound half bad
"Sometimes I get so bored I just want to scream. And then sometimes, I actually do scream. I just sort of feel out what the situation calls for." — Kelly, after her outburst
"That's a hobby. Unless it's for food." — Dwight, on catching butterflies
"Genghis Khan could take them both down cause he's not afraid to kill children." Dwight, attempting to one-up Packer at the bar
"Is this March Madness? I love March Madness." — Cathy, trying to flirt with Jim, who replies that it's not March
"Win at all costs. Don't respect women. These are the tenets I was brought up with, and they have served me well." — Dwight, on his principles
What did you think of this week's episode? Are you into the Tallahassee story line? Share your thoughts in the comments below!