The Office Recap "Angry Andy"
The Office, "Angry Andy": Best Lines of the Night
After his long romantic debacle, Andy is back at The Office this week with Erin on his arm. Just when he thought everything was finally working out, he's got to battle it out with Nellie for the manager's position. Everyone tries to put in their two cents about how he can be more manly, and just as the name of the episode implies, Andy does in fact get angry. Very angry.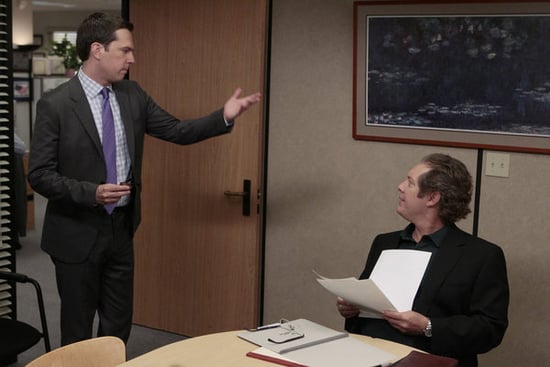 After being provoked by Erin's anger, Andy gets really out of line, but by the end of the episode, I was really surprised when he decides to leave. I'm just hoping this won't stick because it means a lot more Nellie. On a happier note, I was thrilled to see Kelly get some quality action this week! I didn't even realize how much I had been missing her. Watching her choose between her new man Ravi and Ryan made for a storyline I could get a little more into. Overall, after last week's episode, I thought "Angry Andy" was a little bit of a letdown, but luckily, there were a few cute lines to save the day. Just keep reading for my favorites of the night.
"Also, little tip, never shake the baby." — Ryan, trying to one-up Kelly's new, wonderful pediatrician boyfriend
"Penial softiosis." — Erin's scientific description for Andy's inability to perform
"He really doesn't like that wall." — Darryl, on Andy punching the same spot
"Hey, we're going to have a nice hot date." — Erin, trying to cheer Andy up
"Which time?" — Kelly, answering Pam's question on whether it hurt when Ryan cheated on her
"Haven't heard any complaints. Wouldn't care if I did." — Creed, on whether he's ever not performed in the bedroom
"That's your opinion, and it's her opinion, but it's not my opinion." — Ryan, on whether or not he's right for Kelly
What did you think of this week's episode? Were there any funny lines that had you cracking up?
Photo courtesy of NBC