The Office Recap "Doomsday"
The Office, "Doomsday": Best Lines of the Night
In an equally outlandish and sincere attempt to improve productivity at The Office, Dwight creates a device that will most definitely get everyone fired. The "Accountability Booster" registers every time a mistake gets made in the office. When five mistakes are made, you get a home run. Unlike their traditional connotation, home runs are not positive on The Office. "You get a home run and you're out."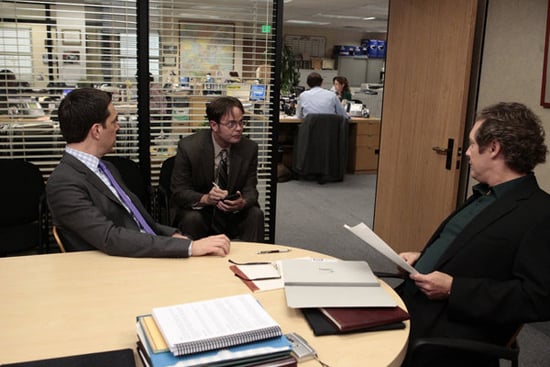 After the team makes the five errors necessary to change the trajectory of their careers, Dwight refuses to delete the email that would ruin everything. He goes home for the day, but Andy assembles a ragtag team to go to Schrute Farms to try to change Dwight's mind. After helping him dig a horse grave and chowing down on some cabbage pie, Pam's uncanny ability to connect with others comes through. She pushes Andy to stop stressing everyone, and eventually her positive attitude pays off. Dwight eventually enters his password into the program and all is well.
Overall I thought this was a great episode. It's sweet, pop-culture laden, and full of laughs. It just goes to show: if you put a lot of Dwight in an episode, things just work for The Office. To find out some of my favorite lines from "Doomsday," just keep reading.
"And you can't have a favorite Iron Chef. It all depends on the secret ingredient . . . sometimes I feel you don't know food at all." — Robert California, answering Andy's question
"Last night I dreamed that the number two was the most valued number in the world. The vice president had all the power. Athletes fought for silver medals. Women were considered the best gender. And stadiums of fans shouted, 'we're number two!' As with all my dreams, I'm guessing it was about my fear of immigrants." — Dwight, on the number two
"You're the deuce I never want to drop." — Andy, on Dwight being his number two guy
"I get the feeling that Val enjoys a good put down. And since I get that sense, I'm going to be milking that hard." – Gabe, on his new love interest
"He's at some club where you either eat squash or play squash." — Erin, on Robert California's whereabouts
"The man tree puts his penis in . . ." — Kevin, on where paper comes from
"Oh wow. I forgot how pretty your house is." – Pam, buttering up Dwight
What did you think of this week's episode? Share your thoughts in the comments!