The Office Recap, Episode "China"
The Office, "China": Best Lines of the Night
It's employee against employee on this week's episode of The Office, as various members of Dunder Mifflin Sabre face off with one another. Round one: Dwight vs. Pam. Acting as building owner, Dwight starts cutting corners by installing motion sensor lights and converting all of the bathroom's two-ply toilet paper into one-ply to stretch his dollar. The staff is peeved by his cheap changes, so Pam steps in as office manager and threatens to move the company to a new, more glamorous building — too bad it doesn't exist.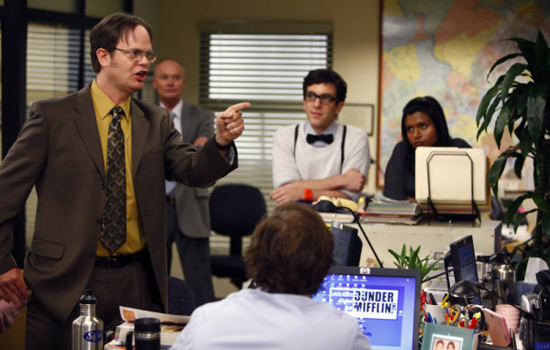 Round two: Michael vs. Oscar. When Michael takes an interest in China, he starts spouting off facts to his employees about the country, which Oscar is quick to correct him on. But wait, it turns out Michael is actually right about something for a change! The staff rallies behind their boss, congratulating him on his new intelligence (mainly, because they love to see know-it-all Oscar get his due). So Oscar decides to go to the mattresses. He invites Michael out to coffee to talk about China and prove he's the smarter man.
It really felt like there was so much going on in this episode, and the the majority of it was pretty funny. Let's jump right into the best zingers when you read more.
"Don't get me started on how coddled the modern anus is." — Dwight, justifying his choice to change the building's toilet paper into one-ply
"He really does fit that old stereotype of the smug gay Mexican." — Jim, explaining Oscar's (or should I say Actually's) smarty pants personality
Creed: "Pirate code, he wants to meet."
Pam: "So everyone here knows pirate code?"
Creed: "I understand it. I can't speak it."
"Dammit, Pam, get out! Right now! Leave it! I mean it, get the hell out of here! Go! . . . I can't wait to do to Pam what I just did to Pam." — Dwight, yelling at another, random Pam on the street. (I loved this scene!)
"Come to parking lot. Crazy pigeon action." — Darryl, reading another unnecessary text message from texting-obsessed Andy
What did you think of this episode? Which storyline did you like best? Weigh in below or head over to The Office community group to chat as much as you'd like about the show!