The Office Recap "Garage Sale"
The Office, "Garage Sale": Best Lines of the Night
The Michael Scott send-off officially begins on this week's episode of The Office, as we finally learn his reasons for leaving his Dunder Mifflin family. I don't want to spoil everything up front, but unless you've been living under a rock, then you know it has a little something to do with Holly and a possible proposal!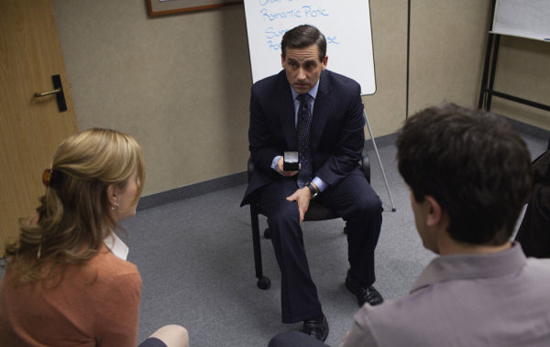 The group is putting on a garage sale, and Michael is letting go of his bachelorhood by placing stuff from his pad up for sale. Everyone gets in on the act with his or her wares, (e.g. entrepreneurial Ryan sells salsa with Oscar's face on it, and Kelly tries to get cash for her girly tchotchkes). Dwight tries to do some bargaining of his own, and taking a cue from the famous One Red Paperclip Project, he starts with a thumbtack and haggles his way to get bigger and better things from his co-workers. Jim sees it as an opportunity to once again play with Dwight's head, so he baits him by convincing Dwight that he has magic beans.
Watching Dwight wheel and deal is funny, but it's definitely not the highlight of the evening. To find out what that is, and to review some funny quips,
.
Raise your hand if you got a little choked up over Michael's proposal to Holly! Michael decides to ask for Holly's hand early on in the episode and begins grand preparations before popping the question (writing on the pavement in gasoline = bad idea). But he encounters a hiccup in his plan when Holly tells him that she wants to move back to Colorado to be with her elderly father whose health is deteriorating. That doesn't stop Michael though; he wants his proposal to be special, and it is. He takes Holly through spots in the office where they met, kissed for the first time, and held their first meeting together before opening a door where all of the employees are waiting holding candles. One by one, they ask Holly to marry them, which provided comic relief before the real tearjerker: Michael's heartfelt proposal. The writers really got it right; it was funny, sweet, and concluded with sprinklers going off from all of the candle smoke — a perfect awkward ending for two awkward people. Then afterward, Michael announces to his staff that he's leaving for Colorado to stay with Holly, and the mood is overall shock. Such a good scene!
I loved how it all went down, did you? Tell me in the comments, but first let's go over some of the night's funny lines:
"Get out of here, Dwight. You're blocking my table with your giant body." — Kelly, who shoos Dwight away from her sales table
"Why would I want some random black man's photo album sitting on my bookshelf? I'm not James Franco." — Dwight, trying to convince Ryan to swap pesto for Stanley's family photos
"If you're in costume, you did something wrong. If at any point you find yourself tying the ring to a dog's collar, stop and look at yourself." — Oscar, giving Michael advice on the dos and don'ts of proposing
"And that over there. That's where you realized that Meredith was prostituting herself for Outback steak." — Michael, taking Holly throughout all of the memorable parts of the office
"This is where I fell in love with you, and this is where I ask you to marry me." — Michael. OK, it's not the funniest line of the night, but it is the one that gave me goose bumps.
Did the proposal live up to your expectations? Did you get a little sad when Michael announces to the staff that he's moving with Holly? Weigh in below, or head over to The Office community group to chat more!
Photo courtesy of NBC