The Office Recap "Garden Party"
The Office, "Garden Party": Best Lines of the Night
On this week's The Office, we're thrown back into Andy's world. He's still trying to seek praise and approval from the new boss in true Bernard style: by throwing an oh-so-elegant garden party. And what better location to throw a dignified shindig than the super classy Schrute Beet Farm? Since Dwight's trying to break into the high-end entertaining world, he's thrilled for the opportunity to host. He's so serious about the endeavor that he even purchases the only copy of Throwing A Garden Party, authored by a true expert on the subject: James Trickington (better known as Jim Halpert). Not only is this book full of practical advice, it's an awesome throwback to the incredible pranks Jim pulled on Dwight in the first seasons of The Office.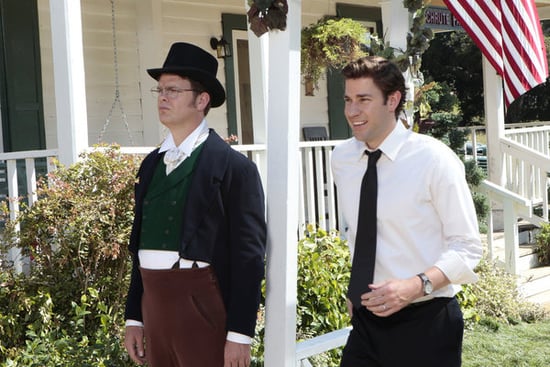 Another highlight of tonight's episode is finally meeting the Nard Dog's family! Dee Wallace and Stephen Collins play Andy's parents, but my favorite cameo came from singer Josh Groban, who does an awesome job playing Andy's younger, seemingly perfect brother. While Andy's desperate need to be accepted truly tugged at my heartstrings, the episode has some seriously hysterical moments from all the Dunder Mifflin crew to provide much needed relief. To find out some of my favorite lines from the episode "Garden Party," just keep reading.
"I cannot believe I didn't think of toasting Robert. Get in the game Gabriel. Why are you talking to Stanley's mistress?" — Gabe, on the triple toast to Robert California
"I'd like to make a toast. To the troops . . . all the troops . . . both sides." — Ryan, giving a "heartfelt" and patriotic toast
"One of the host's most important duties is as dance master.  A proper courtly dance sets the tone for the entire afternoon." — Jim, an excerpt from his textbook on garden party etiquette
"She just always has to copy anything I do. It's the Ford Taurus situation all over again." — Angela, on Pam stealing her thunder
"I can get you exotic meats . . . hippo steaks, giraffe burgers." — Dwight, trying to entice Robert California to have his birthday party at Schrute Farms
"Hey Andy, how about you don't steal my business strategies, and I won't dress like life is just one long brunch." — Gabe, on Andy's "Connecticut casual" garb
What did you think of tonight's episode? Are you hurting for Andy like I am? Share your thoughts in the comments!
Photo courtesy of NBC