The Office Recap "Gettysburg"
The Office, "Gettysburg": Best Lines of the Night
This week on The Office, Andy plans a day trip to Gettysburg in order to boost company morale and teach the crew all about the "business" of war and how it translates to paper. Since the trip isn't mandatory, half of the office stays back in Scranton, hoping they'll have a laid-back day. All of that changes when Robert California shows up and tells everyone to start coming up with some "game-changing" strategies. Where did the winning idea come from you ask? I'm happy to say it was none other than the incomparable Kevin Malone.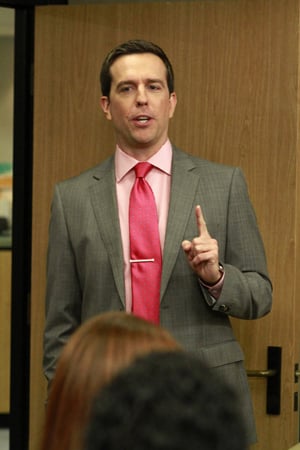 Back to the field trip: when the gang arrives at their destination, Andy opts out of the traditional "tourist" route and takes everyone on the "specially created Andy Bernard tour," full of quirky lessons and mile-long hikes. When Andy becomes much too much for everyone, he takes off solo, hoping that someone will follow. In the most heartfelt moment of the episode, Jim and Darryl find Andy and give him permission to stop trying so hard; he has nothing to prove and everyone likes having him as manager. I was so thrilled that the guys made this grand gesture. Hopefully this will cut out the Nard Dog's constant whining that I've been finding so hard to swallow these days. Overall, "Gettysburg" is a pretty solid episode. While this wasn't necessarily my favorite of the season, it absolutely has its moments. To find out some of my favorite lines, just keep reading.
"Obviously we all want to die, but we've got to get through this." — Andy, on Gabe's boring corporate lecture
"Robert you've got your sheep, and your black sheep, and I'm not even a sheep, I'm on the freaking moon." — Ryan, on being a free-thinker
Darryl: "You know I just got Limitless on my iPad, I bet I could get it on the TV."
Phyllis: "Ooh! Isn't that the one where the guy becomes limitless?" — Phyllis, being generally adorable
"The Civil War history industry has conveniently forgot about the Battle of Schrute farms. Whatever, I'm over it. It's just grossly irresponsible." — Dwight, on Schrute Farms being the northernmost battle of the Civil War
"We are now on a planet where Kevin is the most creative guy around. And I am just some good-looking guy." — Ryan, on Kevin's "game changer"
"I apologize for my friend and for the Republicans who are cutting your funding." — Oscar, making amends for Dwight's rudeness
"Never trust a cookie with a woman's name. Pecan Sandie, Lorna Doone, Madeline." — Kevin, talking cookies with Robert California
What did you think of tonight's episode? Share your thoughts below!
Photo courtesy of NBC