The Office Recap "The Incentive"
The Office, "The Incentive": Best Lines of the Night
Andy Bernard's stepping up in his role as the Dunder Mifflin regional manager in this week's episode of The Office, and he's adopting some pretty unusual methods to motivate his team. While he's still a bit unsure of himself, he's nevertheless dedicated to doing what's best for his team, and I'm loving the extremes to which he's willing to go to keep them happy.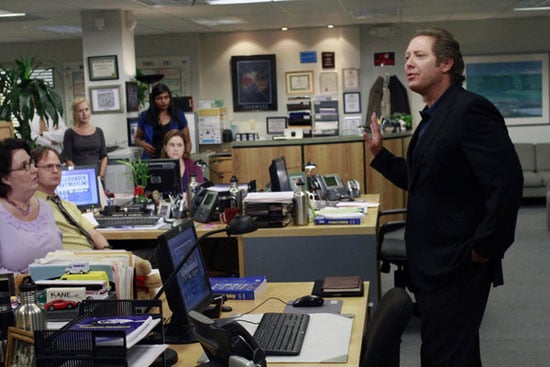 When his incentive program fails to inspire his employees, Andy gets a bit carried away making promises he doesn't really want to keep. It spins so far out of control that he agrees to get a tattoo on his butt! He freaks out a bit in the process, but the Dunder Mifflin gang surprises him with a heartwarming choice for his tattoo — a miniature Nard-dog! To find out some of my favorite quotes from Nard-dog, plus the best lines from the other Dunder Mifflin employees, just keep reading.
"Me mechanic not speak English but he know what me mean when me say car no go and we best friends, so me think why waste time say lot words when few words do trick?" — Kevin, on his new, economical way of speaking
"We took a shower, we were naked, we scap dab dab do be doo boo boo." — Daryl singing about reconnecting with his ex-wife.
"Yeah, C-Span — cocker spaniel. Spaniel because of your Spanish bloodline and cocker because…" — Andy, explaining his new nickname for Oscar.
"Well, I guess you could say I'm in one of those classic ass tattoo incentive situations." — Andy, explaining to his professor why he needs de-incentivizing strategies.
"There's something about an underdog that really inspires . . .the unexceptional." — Robert California, on why he decided to appoint Andy as the new manager.
What were some of your favorite lines? Are you enjoying Andy as the new boss as much as I am? Let us know in the comments!
Photo courtesy of NBC