The Office Recap "Jury Duty"
The Office, "Jury Duty": Best Lines of The Night
After a solid cold opening of Andy dancing to "Footloose" in the warehouse (think dancing on bubble wrap and punching packing peanuts), the rest of this week's episode of The Office is a success. We find out early on that Jim was called to jury duty for a half day that he turned into five days. Dwight catches on to Jim's plan early on and does everything in his power to bring him down. On top of all the cute kids that show up for "Jury Duty," Jim and Dwight go at it. Oscar has some awesome moments. And I love this new friendship between Kevin and Erin that's blossoming before our eyes.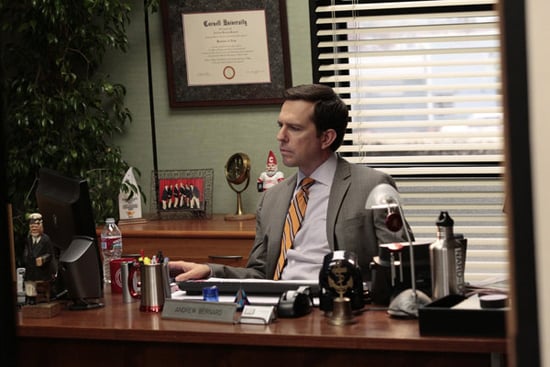 This is one of my favorite episodes I can remember in a long time. Not too plot driven and chock-full of solid comedic writing plus a handful endearing moments that just made me feel good. To get a few of my favorite lines, just keep reading.
"Oscar's the dad. I'm Oscar's dad. and Angela's my mom." — Kevin, on Oscar referring to as accounting "it's own little family"
"Usually I'm a burrito guy. But if you won't tell; I won't. Wink Wink." — Creed, on tasting empanadas
"I love maternity wards. It's the perfect blend of love and horror. Things can either go so wrong or so right." — Gabe's strange take on the joys of childbirth
"I was on so many drugs. I felt like I was at a James Taylor concert." — Angela, after mysteriously not remembering her baby's weight
"Jim was lying about jury duty. He was lying the whole time so he could go do yoga or go canoeing. I don't know what this pervert likes." — Dwight's idea of what Jim must do in his free time
Did I miss any? Chime in with your own favorite one-liners!
Photo courtesy of NBC