The Office Recap "Lotto"
The Office, "Lotto": Best Lines of the Night
On this week's episode of The Office, the Dunder Mifflin warehouse crew wins the lottery and promptly quits their jobs. This leaves the office seriously understaffed, unsure of how to proceed, and daydreaming about what they'd each do with a small fortune. For me, the episode was a beautiful blend of The Office I've loved in the past and have missed so far this season: equal parts silly hijinks and heartfelt character development.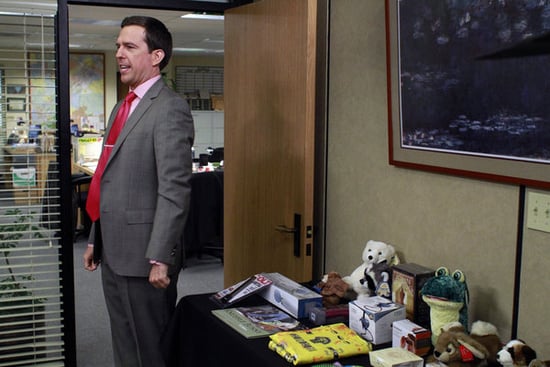 Without a doubt, Kevin and Erin's interactions as replacement warehouse workers are some of the funniest moments of the season thus far. And while Andy is still dealing with the pressures and responsibilities that come with his new title of regional manager, Darryl really steals the show tonight. He's one of my favorite characters, and is, in my opinion, underutilized. As a former warehouse guy, Darryl starts off the episode pretty depressed about missing out on the lottery win, but he makes a shift in his thinking and comes out on top. To find out some of my favorite lines from the Dunder Mifflin employees, just keep reading.
"I know what you'd do with all that money. 'Hey Pam, let's buy expensive bathrobes and hug.'"— Dwight, on what he thinks Jim would do after winning the lottery
"I've never been lucky and I'm not talking about the lottery. I'm talking about developing a soy allergy at 35." — Darryl, on having terrible luck in life
"I think I would keep working, and for my salary I guess I'd take like a dollar a year. I mean obviously I wouldn't come in until noon and I wouldn't do anything that I didn't want to do. I mean I'm getting paid a dollar a year, OK? You can chill." — Kelly, on what she would do is she won the lottery
"We're looking at least one suicide and one weird sex thing." — Meredith, on what will happen now that the warehouse crew has won so much dough
"Does anyone get distracted easily by bubble wrap?" — Andy, trying to interview new warehouse crew candidates
"My future isn't going to be determined by seven little white lotto balls. It's going to be determined by two big black balls. I control my destiny. I do." — Darryl, changing his attitude and taking control of his fate
What did you think of tonight's episode? Are you as happy as I am that we got lots of face time with Darryl? Share your thoughts in the comments!
Photo courtesy of NBC