The Office Recap of "Mrs. California"
The Office, "Mrs. California": Best Lines of the Night
With one of the best cold opens on The Office all season, this week we jump back into Robert California's bulldozing of Andy. Tonight, it's about his wife. Robert says that under no circumstances is his sweet and beautiful wife (played by Maura Tierney) allowed to work at Dunder-Mifflin. Andy almost pushes through and succeeds, until all of the games become just too much. Just when it looks like he is in the clear, Robert promises that he would be "eternally grateful," and (of course) Andy blows it by offering Mrs. California a gig.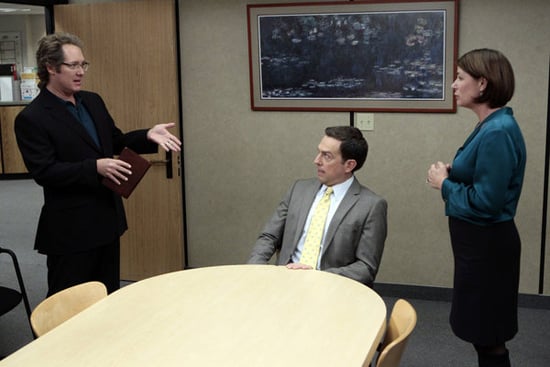 What I love about this episode is that Andy's genuine good nature shines, and that's what I've loved about nerdy Nard Dog from day one. I'm tired of Robert California being such a bully without any humor to alleviate the situation. Luckily, it seems like the writers may agree. At the end of the episode, Mrs. California notes that it's too bad things didn't work out since she and Andy really "hit it off." Of course, Andy assumes that she means this in a professional capacity, but an unexpected twist comes when Mrs. California asks Andy out.
The saving grace in the humor department? Dwight and Darryl. After Dwight opens "Dwight Schrute's Gym for Muscles," Darryl is the first office member to sign up. The two spend time working out together and just being generally hysterical. There's also some solid Creed action where he's playing with a remote-controlled helicopter on the roof. Even if I'm exhausted of the Robert vs. Andy saga, "Mrs. California" truly has its moments. For my favorite lines from this episode, just keep reading.
"Picture someone doing something heroic. Now was he sitting or standing? Not counting FDR."— Dwight, on his refusal to sit at work
"No, this is not a gym. This is like a scene out of Saw V." — Darryl, on Dwight's newest project
"I have these sneakers. They're basically like a gym for your feet." — Kelly, on working out
"Bitch." — Ryan, on Mrs. California calling him Bryan
"How can we do that? She's simply wonderful!" — Kevin, on his inability to be mean to Mrs. California
"I should get to the ATM before that homeless man sets up camp for the night." — Robert California, trying to dodge a bullet
"How do you think the Fonz got so cool? He stretched his pelvic bowl." — Dwight on the importance on stretching before working out
What did you think of this week's episode, "Mrs. California"? Chime in below!
Photo courtesy of NBC