The Office Recap "PDA"
The Office, "PDA": Best Lines of the Night
Someone tell Holly and Michael to get a room! The newly reunited couple can't keep their hands off each other on the latest episode of The Office, and it's making everyone around them uncomfortable, including me. Don't get me wrong, I enjoy Holly and Michael as a duo, but I don't ever want to think about Michael as a sexy "jungle cat" — even if it is funny. Holly and Michael aren't the only ones acting like horny teenagers, either. When Pam and Jim return from a Valentine's Day lunch with some alcohol in their systems, they go looking for the perfect hookup spot for some office sex. You know, since everyone else at Dunder Mifflin has already done it.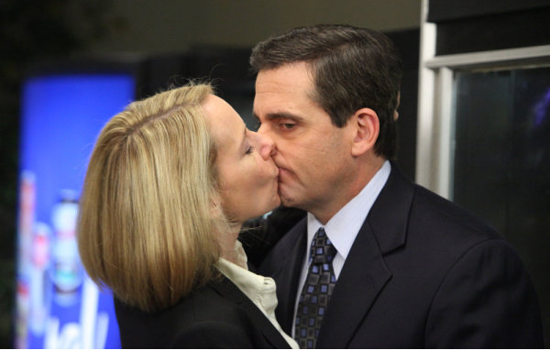 Of course rule-abiding Gabe would never think to stoop to such lovey-dovey shenanigans on company property. He plans something much more demure for girlfriend Erin: a scavenger hunt. But when Erin struggles with the game's clues, she enlists Andy for help. By the end of their search, Erin finally seems to realize the guy she's supposed to be with, or so we hope.
While this wasn't my favorite Valentine's Day episode of The Office ever, it did have its heartwarming moments (Michael and Holly exchange I love yous!) and several funny lines. Check out a few of the night's best quotes when you
.
"It shows that everything you want in life you get, and you can't work for it, it just comes for you." — Michael, explaining how he finally won back Holly.
Pam: "Yeah, lunch was wonderful! There was an amazing buffet, and there was a chocolate fondue station, and what else was there?"
Jim: "Um, bottomless champagne?"
Pam: "Yes, we never found that bottom, did we?"
"I cannot keep myself from Michael. Everything he does is sexy. He has this undeniable animal magnetism. He's a jungle cat. The man exudes sex . . . He can put both his legs behind his head." — Holly, trying to justify her attraction to Michael.
"I don't sit on your lap cause it's comfortable; I sit on your lap because I like the way your thighs feel on my butt." — Michael, who doesn't understand why everyone's saying his PDA with Holly is uncomfortable.
"Pizza, soda, the moon? Someone to share it with. Presents under the tree from Santa." — Kevin, describing his perfect Valentine's Day.
What did you think of the episode? Are you a little grossed out by Michael and Holly, or do you find them hilarious? I am pretty excited to see them move in together. Weigh in below with your thoughts, or head over to The Office community group to chat more!
Photo courtesy of NBC