The Office Recap "Pam's Replacement"
The Office, "Pam's Replacement": Best Lines of the Night
On this week's episode of The Office, a very pregnant Pam must train her replacement for her maternity leave, and she's feeling more insecure than usual when that replacement happens to be an attractive woman that all the men at Dunder Mifflin are buzzing about. All the men except Jim, that is. Pam's determined to get Jim to admit he finds temp Cathy (Lindsey Broad) hot, and goes as far as to team up with Dwight to get the truth out of him. Dwight's tactics prove unconventional, including lunging at Jim's crotch to gauge his level of sexual interest in Cathy and creating a make-shift lie detector test.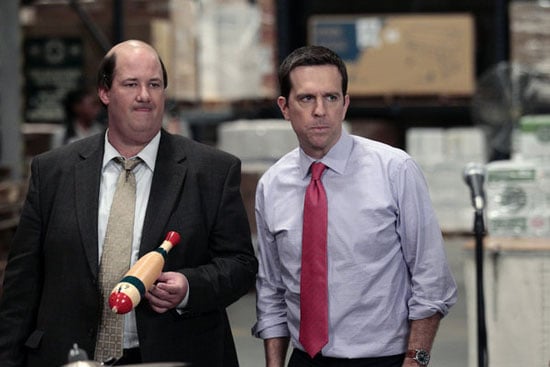 Meanwhile, Andy, Kevin, and Darryl take to the warehouse for an impromptu jam session that attracts the interest of Robert California. The CEO hits a sour note with the trio when he takes over their rehearsal space with his own band, a bold move from the intimidating California. It's about the only thing that felt totally original in the episode. We've seen Pam get jealous over Jim before, and is it me or did the cold open feel a bit familiar, too? Andy gets Erin to interrupt his meeting with a fake urgent call, so that he can refuse it and make the client feel important, which is a variation of Michael Scott's old trick of getting Pam to burst into his office with fake notes. Either way, the jokes still made me laugh, and — as always — each character has hilarious lines. Check out a few of my favorites when you keep reading!
"He's probably a drug dealer. That's the best way to land a hot girlfriend. You just get her hooked on blow." — Gabe hypothesizes about how a man might land a girl who looks like Cathy
"How'd I get this long triangle?" — Creed is confused when Dwight hands him a Toblerone
"Does your husband have very soft erections? Because if not, I just grabbed a very soft penis for nothing." — Dwight asks Pam about Jim's erections to try to ascertain whether or not he's attracted to Cathy
Ryan: "What kind of car does he drive?"
Jim: "Not his mom's."
Ryan: "Yeah, 'cause his mom's car's probably not a Nissan Z." — Ryan gets defensive about driving his mom's car
"Guys, Robert is gonna be a zit!" — Kevin is ecstatic that Robert is joining his band, "Kevin and the Zits"
What did you think about this week's episode? Chime in with your thoughts in the comments!
Photo courtesy of NBC