The Office Recap "Pool Party"
The Office, "Pool Party": Best Lines of the Night
On this week's The Office, we got to see the colleagues of Dunder Mifflin as we rarely see them: in their bathing suits. The gang gets invited to a pool party at Robert California's dream home before he has to put it on the market, and things get a little wild.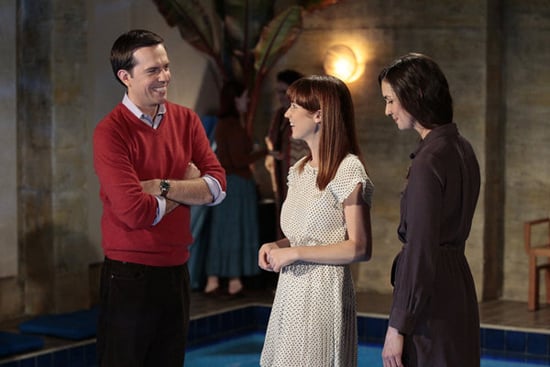 Erin bends over backward to make Andy jealous, who has an engagement ring he may or may not use on his girlfriend. Jim tries to leave the party early, but the wet and crazy festivities keep everyone going, and things get weird. There were so many funny lines, but I managed to pick out a few favorites. See them when you read more.
"We'll never have to buy meatballs again!" — Dwight, on the meatball-related joke he and Stanley get Jim to concoct
"You're looking at the master of leaving parties early. The key is you have to make a strong impression. So you want to have a picture taken, you want to say a peculiar non sequitur that people remember. You want to note something unique, a talking point for later. I don't mean to brag, but New Year's Eve? I was home by nine." — Jim, on his party exiting skills
"You guys gotta try this pool. No tub scum, no Band-Aids. This thing is choice!" — Meredith, on the quality of Robert's pool
"I think sexy eating is a dead end." — Erin, noticing that her flirting with Dwight isn't working
"I like to get my monog on." — Andy, about his serious relationship
What did you think were the funniest quotes from this week? Share your favorite lines in the comments?