The Office Recap and Quotes From "The Seminar" Episode
The Office, "The Seminar": Best Lines of the Night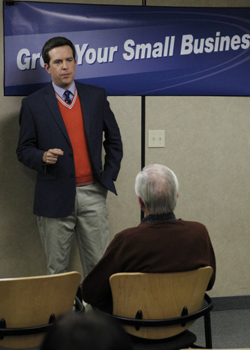 This week's episode of The Office definitely had its moments, but this will probably forever be known as "the one with Ricky Gervais." The show's creator stopped in during the cold open as his UK Office character David Brent, in what was undoubtedly the most memorable moment of the evening. Not that the rest of the half hour didn't have its merits.
Andy is planning a small business seminar, and he recruits his fellow employees to help with a few presentations. Jim declines after a childhood friend unexpectedly appears, then Dwight, Phyllis, and Stanley also back out. As a result, Andy has to call in for backup: Kevin, Kelly, Ryan, and Creed. Though they may lack public speaking skills, they make up for it with plenty of passion! Meanwhile, Michael is doing a little strategizing of his own. He creates a fake Greek persona, "Mykonos," as a way to generate interest in Andy's seminar and to win Holly back. There's also a heated Scrabble game between Gabe and Erin, although the only words Erin can think up are animal-related.
I chuckled throughout the episode, so let's take a look at some of the best quotes. I've listed a handful of my favorites when you
.
Dwight: "You promised us whales, these are worms."
Andy: "They're not worms, Dwight. They're just people with tiny businesses. They're baby whales, which is even cuter."
"The winner gets to pick the movie we watch. I have won no games. So far, I've seen The Shining, Rosemary's Baby, The Ring — not really my thing. Although, I do like the early parts of the movies where they have a perfect family and everything." — The always cheery Erin, explaining her Scrabble game with Gabe
"There are some people who have charm, and some people who don't. Guess which type I am? Charm type." — Kevin, who tries his best to give a rousing presentation, beginning with Ozzy Osbourne's "Crazy Train"
"It is important to brand yourself, so I have a couple of things in the works: the business bitch, the diet bitch, the shopping bitch, the etiquette bitch." — Kelly, who clearly has more business savvy than anyone gives her credit for
"Two eyes, two ears, a chin, a mouth, ten fingers, two nipples, a butt, two knee caps, a penis. I have just described to you the loch ness monster, and the award for his capture? All the riches in Scotland. So I have one question: why are you here?" — Creed, giving his motivational speech to the seminar's students
"Where's your jet pack, Zuckerberg?" — Jim's childhood friend, Tom, ridiculing Jim for calling him dumb when they were kids (nice Facebook/Social Network reference!)
What did you think of the episode? Are you happy with how The Office is performing in 2011? Did you want to see more Ricky Gervais? Talk it out below or head over to The Office community group to chat more!
Photos courtesy of NBC