The Office Recap "The Search"
The Office, "The Search": Best Lines of the Night
All together now: hooray! Love is in the air for Michael and Holly on The Office, and I think it's safe to say that these two are clearly meant for each other. After Pam's mom locks Cece in the car, Jim has to swoop in and leave Michael stranded at a gas station. To the rescue: Dwight, Erin, and Holly. But Holly proves to be quite the secret weapon in the search; she traces Michael's footsteps completely unintentionally since the two of them think so much alike.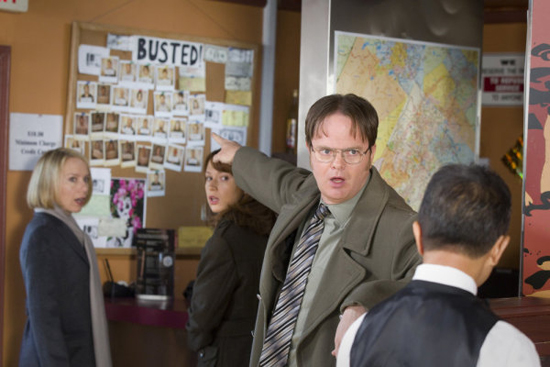 Back at Dunder Mifflin, Pam holds an impromptu contest among her co-workers to caption one of her drawings. The entire staff comes up with a ton of zingers, but Gabe quickly puts the kibosh on their game since most of the jokes poke fun at the company (and at Gabe himself). I loved watching all of the employees have fun at Gabe's expense, and of course, the episode's ending made me feel all melty. It's almost a sad irony that we're getting some of the show's better episodes right as we're planning for Steve Carell's departure. Let's go over the best lines of the night when you
.
"Oh, it is on like Genghis Khan wearing

Sean John

in Bhutan!" — Andy, sharing his excitement over the caption contest (note to self: incorporate this into my daily vocabulary)
"You guys are so beautiful, you're so colorful. I wish I could understand you. That's a metaphor, I guess." — Michael, talking to some parrots at the pet shop
"I like to use Sticky Quips as regular Post-it notes when I'm in a fun mood. Not every day." — Gabe, explaining how he likes to go wild with his office supplies
"Instead of throwing them all away later, why don't you just throw one away now into my mouth?" — Michael, trying to convince a hot dog seller to give him a free meal
"Orville Tootenbacher, that's Michael's millionaire character that farts popcorn." — Erin, who recognizes Michael's pseudonym on a phone plan application
OK, so were you dying like I was over Michael and Holly's kiss at the end? Sound off below, or head over to The Office community group to chat more!
Photos courtesy of NBC