The Office Recap of the Season Finale "Whistle Blower"
The Office, "Whistle Blower": Best Lines of the Night
The season finale of The Office doesn't have the now-customary heartwarming moment at the end of the episode, but "Whistle Blower" is a pretty hilarious note to send the season off on.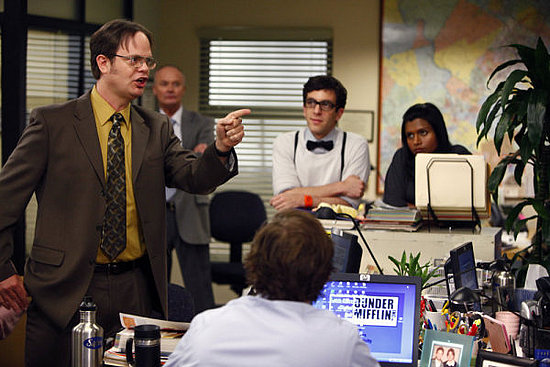 The witch hunt vibe that pervades the office in the wake of a Sabre scandal gives the characters lots of opportunities for quips. Even if there isn't an emotional payoff like there was at the end of the second season (when Jim and Pam kiss) or the end of the last (when they find out Pam is pregnant), I still enjoyed it. Check out my favorite lines from the sixth-season ender.
"If you say anything, so help me God I'll break off the temples of your glasses and stick them in your eye sockets." — Andy
When someone leaks the news that Sabre's printers have a nasty habit of catching on fire, people start pointing fingers at each other, and Andy is the first one, accused by Phyllis. Luckily, he has a terrifying, whispered threat prepared for her.
To see the rest of my favorite lines, just
.
"Basement office? You mean like a lair?" — Dwight
On the advice of Jo, Dwight decides to make a property investment and starts researching places to buy. His first choice has oh-so-tempting lair potential, but ultimately he realizes the property he should own is right under his feet — the building that houses the office.
"I think I tweeted it. I can't control what I say to people, I spend the whole day talking. I video chat, I skype, I text, I tweet, I phone, I woof." — Kelly
Surprise: Darryl, Pam, and Kelly all think they accidentally leaked the info. Kelly blames her need to chat all day long and lists off her chosen methods of technology, including Ryan's ultra-new "Woof."

"You're on Facebook. Why you been telling people you're not on Facebook? People wanna be your friend, man!" — Nick
One of my favorite lines (actually, it's my favorite scene entirely) comes from departing IT guy Nick, after he confronts the office about how they've never learned his name. His revenge monologue includes outing Darryl's Facebook status and Kelly's vanity sizing — and that Andy blew the whistle by writing a letter to a newspaper editor.
"It has not been a blockbuster year for me, financially. My Blockbuster stock is down." — Michael
I really felt for Michael when he talks about having had a rough year, due to his very literal financial problems and that he still misses Holly. Though there was no heartwarming Jim and Pam moment in the final seconds of the show, I took Michael's request to have Jo bring Holly back as a sign that maybe next season — possibly Carell's last — will include the return of Holly.
Did you find this episode as funny and satisfying as you'd hoped? I thought it played out as a great episode, but it isn't as monumental as The Office finales usually are. What did you think?
Photos courtesy of NBC