The Office Recap Season Premiere "The List"
The Office Season Premiere "The List": Best Lines of the Night
The season premiere of The Office gives us new cast member James Spader, who's taken over as the Sabre CEO from Kathy Bates's Jo, but the more exciting promotion is that of Andy, who's now the regional manager! It's a development I'm excited about, because Ed Helms has always been a delight, and after seeing in this first episode, I have faith that his good attitude will help soothe the void left by replacement of Michael Scott.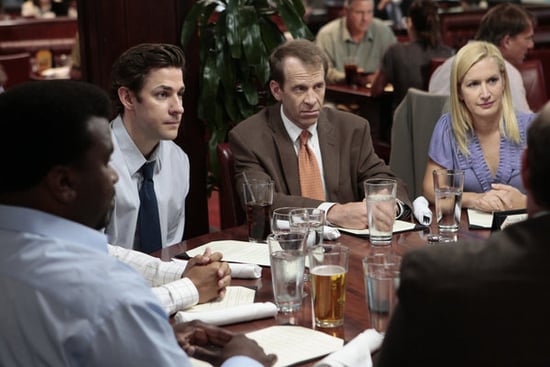 There are a couple of other developments, like Pam's second pregnancy — and Angela's suspicious first pregnancy. Spader's Robert California causes controversy right off the bat by drawing up a list of the people in the office and putting them on two sides: winners and losers. It draws out some funny lines in an altogether pretty pleasing episode. To see my favorite quotes of the night, just keep reading.
"I act like I'm telling someone how to do something. I go over the long description, and then I say, "and shove it up your butt!" — Stanley, on his "new thing"
"Pam come on, don't be such a right-sider." — Dwight, trying to get Pam not to overreact about the list
"Apt. Apt analysis, Robert." — Darryl, on Robert's interpretation of Sesame Street
"Chins up, OK? Bad joke." — Andy, comforting Pam after she laments that she's now a "fat mom"
"Jim, shut the door. This is just gross." — Dwight, reacting to Andy's sweet defense of each employee
Which quotes did you think were the funniest? And what do you think of the new manager and CEO of the office? Do you think Andy and Robert will be able to make The Office worth watching without Steve Carell?
Photo courtesy of NBC