The Office Recap "Spooked"
The Office, "Spooked": Best Lines of the Night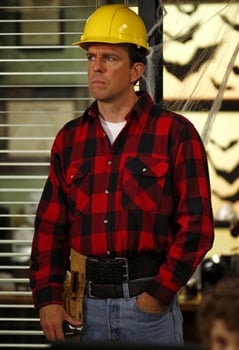 As Andy's first Halloween as regional manager, he's taking The Office celebration very seriously. After prescreening costumes and putting Erin in charge of the event, he feels pressure from Robert California to amp things up a bit. As a result, he attempts to hand the reins back over to former party-planning commandant Angela, but Erin does her best to re-imagine her sweet "kiddie" party for the adult world. At first things seem like a complete success; there's eerie fog and creative decor that even Darryl compliments. But once Gabe's creepy homemade film of the unsettling hits the screen, everything else hits the fan. The real shift in the episode occurs when we learn that Andy has a girlfriend. And it's serious, people; they've been on exactly 31 dates. Although my heart weeps for Erin, I can't wait to see who will play the Nard Dog's new lady.
A great stride comes in the form of humanizing Robert California. Up to this point, I've been a fan of James Spader's character, but was a little put off by his constant arrogance. In this episode, he feels more like a real person, partially due to the fact that he brings his son Bert to the party — who totally hits it off with Dwight! Overall the episode was a success for the The Office, so to find out some of my favorite lines from "Spooked," just keep reading.
"I've decided to prescreen all the Halloween costumes this year. I have three simple rules: don't be offensive; don't be cliché; and don't take the first two rules too seriously." — Andy, on Halloween costumes
"Why is it such a shock that I follow the royal story? Warms my heart . . . thinking about those two kids . . . doing it." — Meredith, on the royal wedding
"When they talk about all the nice things about dating a co-worker, they don't mention one of the best parts. After you're done dating, you still get to work together. Every single day." — Erin, on the aftermath of her past office romances
"Every Halloween I tell him the same thing: 'You can't bring weapons into the office.' And every year he says the same thing: 'As soon as I get my weapons back, I'm going to kill you.' But there I am at Thanksgiving alive, you know. I'm a lucky turkey." — Toby, on censoring Dwight's costumes
"I grew this party up real fast. Get out of here, little kid party. Nobody loves you. And clean up your room! Grown-ups are going to use it later!" — Erin, on making her party more "adult"
"Fear plays an interesting role in our lives. How dare we let it motivate us. How dare we let it into our decision making, into our livelihoods, into our relationships. It's funny, isn't it? We take a day a year to dress up in costume and celebrate fear." — Robert California's insight on our relationship with fear
What did you think of this week's episode? Who had your favorite costume? Share your thoughts in the comments!
Photo courtesy of NBC