The Office Recap "Tallahassee"
The Office, "Tallahassee": Best Lines of the Night
A change of pace does The Office good this week. In "Tallahassee," we jump back and forth between the usual suspects in the Scranton office and the new special project crew in Florida. Some faces I've loved in the past come back into the picture this week: Michael's old crony Todd Packer (David Koechner) is on the team for the new Sabre stores, and former regional manager candidate Nellie Bertram (Catherine Tate) is now in charge of special projects.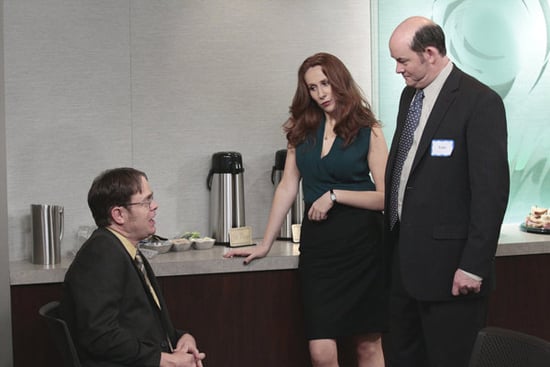 Dwight lands in the hospital with appendicitis, but of course, surgery is no excuse for Mr. Schrute. He comes back to the orientation equipped with a personal IV in a backpack. I appreciated Dwight's determination and loved seeing him a little loopy, but for me, Stanley really takes the cake in the humor department this week. "Tallahassee" may not be the strongest episode of the season, but it definitely has its moments. Check out a few of my favorite lines after the jump.
"First impressions get locked in forever. When I first met Pam, she said something that slightly rubbed me the wrong way. Since then I've loved working with Pam, and she's frankly wonderful. But I hate her." — Dwight, on the importance of first impressions
"Life is short. Drive fast, and leave a sexy corpse. That's one of my mottos." — Stanley, on his life philosophy
"It's so peaceful. I've already written like 12 plays today." — Creed, on how quiet the office is with people in Florida
"It's just rum. I'm not bored. I'm a pirate." — Stanley, making the most of his time in Florida
"I've spent so much of my life telling myself, 'Please don't end up like Stanley.' And now I'm wondering if I even have what it takes." — Jim, on Stanley being awesome
"You're too slow. You're too small. Seabiscuit is a stupid name. You guys sound just like the enemies of Seabiscuit." Dwight, on being put down
Did you like seeing the office mates in Florida this week? Add your favorite quotes or thoughts about the episode to the comments below.