The Office Recap "Todd Packer"
The Office, "Todd Packer": Best Lines of the Night
Michael Scott's oldest friend, Todd Packer (David Koechner), gets an entire episode in his honor on The Office this week. Packer wants to reclaim his desk at Dunder Mifflin, which has most of the staff up in arms, including Holly. Even though she rehires Packer at Michael's recommendation, she quickly regrets her decision after realizing the guy's a grade-A jerk. So how to get him ousted? Dwight and Jim to the rescue! The rivals form an alliance and join their prank skills. Their scheme: phone Packer to tell him he's being relocated to Tallahassee.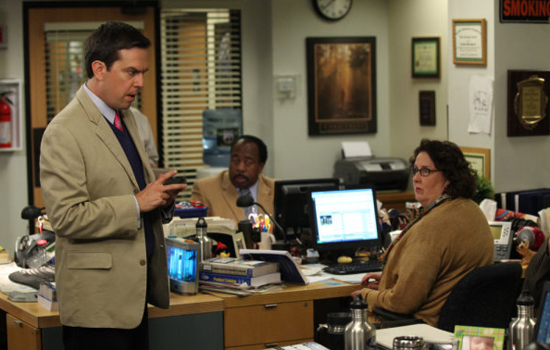 Meanwhile, Pam does a good deed by purchasing a new computer for Erin, but it stirs up jealousy with Andy, as he begs for a new desktop like a spoiled brat. When did Andy get so whiny, and Michael begin acting grown-up? If Todd Packer represents the old, inappropriate Michael Scott, then perhaps his departure means we're one step closer to a more mature Michael. Let's take a look at the night's memorable lines after the jump.
"I don't want to say the other one was old, but its IP number was one." — Pam, making a corny joke about Erin's desktop
"We have been thinking about where Packer should sit, and we can't just sit around waiting for Creed to die." — Michael, explaining to Dwight why they need to take over his desk
"Kevin, in sumo culture, you'd be considered a promising up-and-comer." — Dwight, trying to make Kevin feel better after Packer pokes fun at his weight
"Who is Justice Beaver?" — Dwight, who doesn't get Jim's Justin Bieber reference
Dwight: "And you be sure to get down there and check out that Harry Potter World."
Jim: "Whatever you want to do in your spare time is up to you."
Dwight: "Harry Potter World is supposed to be fantastic."
What did you think of this episode? Don't you agree that Andy was overly annoying, or is it just me? Weigh in below, or head over to The Office community group to chat more!
Photo courtesy of NBC