The Office Recap "Trivia"
The Office, "Trivia": Best Lines of The Night
In this week's episode of The Office, Oscar attends a trivia night contest in Philadelphia. Naturally, Andy decides that the whole office should get involved in the fun. Everyone shows up without telling Oscar and realizes instantly that they're at a gay bar. Their worries blow over pretty quickly and the office splits up into three teams: the "good timers," the "back-ups," and the "A-team." My heart broke for Kevin's initial lack of "self-awareness" on which team he was best suited for, but felt such a sense of accomplishment when he and the rest of the "good timers" (renamed The Einsteins) come out on top.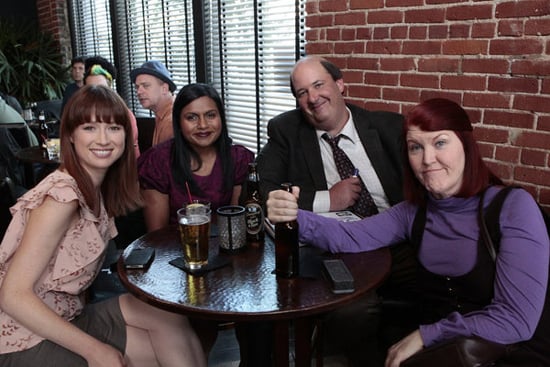 A great addition to this episode comes in the form of Dwight's separate storyline. After hearing that there's a managerial position open in Florida, he takes the initiative to travel down to speak to Robert California in person. He has some great one-liners and some hysterical interactions with Gabe, but unfortunately, it was not the saving grace of the episode. Overall, "Trivia" was all right, but definitely not my favorite of the season. I did love that Kevin had some quality moments — and surprisingly, the guy running trivia in Philly provided some of the funniest moments of the episode! To see the best lines, just keep reading.
"I know Elizabeth Taylor's sixth man was Richard Burton. Is that helpful?" — Phyllis, trying to be helpful with basketball trivia
"I can't not touch it." — Ryan's relationship with his phone
"I'm sure you're just checking your Grindr account." — The guy running trivia, on Ryan's inability to turn off his smartphone
"Dogs, canes, signs, manholes, stairs, piano, darkness." — Erin, on things that blind people think about
"I can't help it Oscar. It's just really good." — Kevin, on saying "Oh yeah!" every time before he eats a candy bar
"Like a Spanish conquistador I have come to Florida to claim what is rightfully mine." — Dwight's plan to become a manager
"I am the toilet of this office. I flush away annoying problems so other can keep their hands clean and just like a toilet I am essential." — Gabe on his "essential" role at Sabre
What did you think about this week's episode? Chime in with your thoughts in the comments!
Photo courtesy of NBC