The Office Recap "Turf War"
The Office, "Turf War": Best Lines of the Night
In this week's episode of The Office, Robert California is hung over and trying to put together the events of the evening — namely, that he closed the Syracuse branch of Dunder-Mifflin while blacked out. And of course, Andy is still being awkward and hanging out around the office, hoping that it's all just been a bad dream. I was happy to see Chris Bauer (Andy Bellefleur!) from True Blood make an appearance as the Syracuse branch manager who is upset that Scranton is stealing his clients.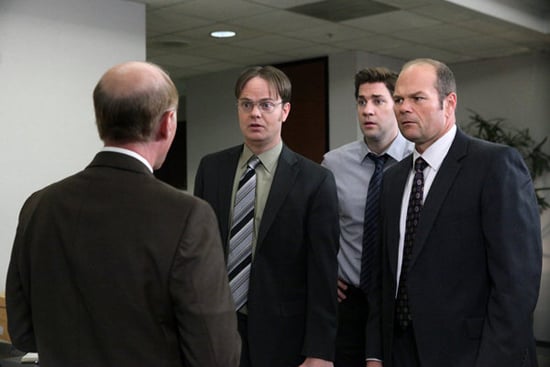 We learn that Nellie has been having a hard time and actually has a heart; when Pam warms up to her, she's elated. Andy scores a big deal under the alias Big Red Paper Company to get his job back, but when Robert doesn't bite, he heads over to our old friend David Wallace, who seems interested. While I was happy to see Andy get his groove back, to be honest, the high point of the episode is the cold open, where Jim sets up a thigh curl contest between Gabe and Dwight. There are a few funny lines that held things together, so to see my favorites, just keep reading.
"You know the only thing more delicious than your feet is the feast that I'm going to prepare for everyone." — Andy, trying to hold it together
"I got into a case of Australian reds and, how should I say this, Colombian whites." — Robert California, on his drunken escapades
"I could have choked so many people by now!" — Dwight, on realizing that there's no real rule on choking
"Jim, get real. This is not a monkey. It has a hula skirt and a blue nose." — Dwight, talking about a toy in the car
"Did someone say girl talk?" — Gabe, being creepy with the women
"My wireless password is Eat Pray Love. Easy to remember." — Andy, trying to give all his personal information up to get a deal done
"You don't even know my name. I'm the f*cking Lizard King." — Robert California, on Andy not knowing his last name
What did you think of the episode? Tell me your thoughts — or add your fave moment — in the comments below!
Photo courtesy of NBC