The Office Recap "Welcome Party"
The Office, "Welcome Party": Best Lines of the Night
Andy and Erin have reunited on the road, but they have to make a quick pit stop before their relationship can be official. The only thing holding them back? Andy needs to break up with Jessica at her parents' cabin where a big bachelorette party is being thrown. Back in Scranton, it looks like Nellie is here to stay, so Robert suggests the office welcome her by throwing a big party.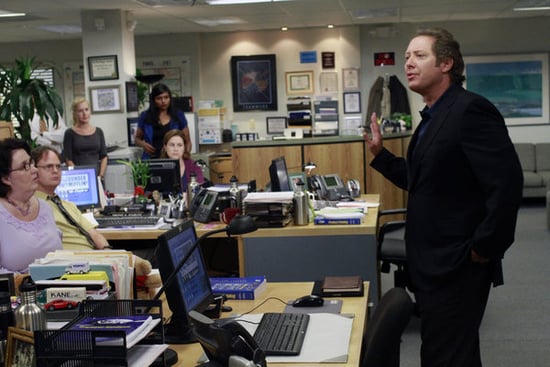 Jim tells Pam how to make the party as miserable as possible, but after Jim has a change of heart, Pam tries to pick up the pieces, and the party ends up not so bad. Andy and Erin make it to Jessica's cabin for the big breakup, but instead of being honest about his feelings, he initially tells her that he's gay, but realizes it's not the right thing to do and goes back to break up for the second time — but he makes a quick break for it.
There are some solid laugh-out-loud moments thanks to Oscar and Dwight, and I'm looking forward to seeing the direction that the rest of the season will take. With lots of great lines, it's hard to pick just one favorite. Check out some of my favorite quotes of the week after the jump.
"Pam, hit the breaks. Stanley does not have a mustache." — Oscar's initial reaction to Stanley's facial hair
"Don't listen to Jim, have you ever seen him play Tetris?" — Dwight, on Jim's inability to move furniture correctly
"I really should have a Tweeter account." — Dwight, after having a great one-liner
"I see you've discovered Benjamin. That's what I call my box full of photos of Henry." — Nellie, on Dwight and Jim finding her breakup box
"I can't say it doesn't make sense." — Jessica, on Andy being gay
"We hate Pam. We hate Pam! We hate Pam!" — Creed, attempting to start a passionate cheer
"Scram, wizard!" — Dwight, to the party magician
What did you think of this week's episode? Have a favorite line I didn't bring up? Share it below!