The Office, "Sabre": Best Lines of the Night
The Office, "Sabre": Best Lines of the Night
The Office is finally back this week (and I don't mean with a weak clip show). Dunder-Mifflin has been bought out by a company called Sabre, which means some ch-ch-changes for Michael and the rest of the crew. We get a couple of celebrity cameos, a little Pam and Jim awkwardness, and most importantly — the invention of the "suckit."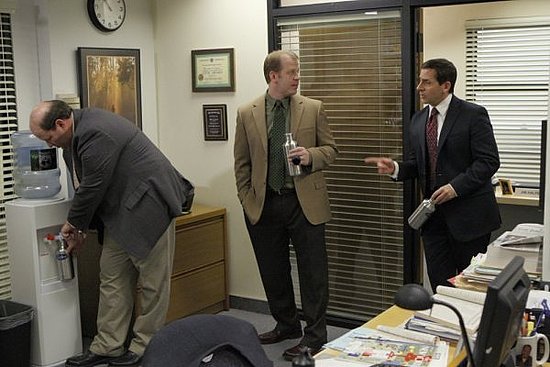 Ready to discuss the funniest moments? Just
.
"Have you tried making everything smaller?" — Creed
You can always count on Creed to make a totally offbeat comment, and this time his unhelpful remark is directed at Pam and Oscar as they try to repack Gabe's box of office equipment.
"Erin, scissor me please." — Michael
"Beer me" has always been one of my favorite phrases to come out of Dunder-Mifflin, but Michael takes it to a new level here. I particularly loved the look of awe and horror on Pam's face.
"There is a small part of me that is actually very excited about this new company. But 70 percent of me is water, and the other part, the real part, the part that has feelings and emotions and thoughts and makes decisions, and, if I can be crass, makes babies. . . that part thinks that all of these changes suck ba---." — Michael
Michael's speeches can be pretty hit or miss, but I really enjoyed this one about the new office repertoire, especially because the cut to commercial could not have been more perfectly timed.
"Have you ever tasted a rainbow? At Sabre, you will." — Christian Slater
That's right, Christian Slater makes a cameo and delivers one of the best lines of the night. 'Nuff said.
"Is this because Jim walked in on you going to the bathroom?" — Pam
In general I've been finding most of the Pam and Jim baby stuff to be a little dull, but I totally cracked up when Pam just went for it at the daycare interview.
What did you think of this week's episode? I thought it had a few chuckles without going over the top, but I wasn't exactly in stitches. Did I miss any great one-liners?
Oh, and if you want to keep the conversation going, be sure to check out The Office community group!
Photo courtesy of NBC