Once Upon a Time Cast Interview at Paleyfest
PaleyFest: Once Upon a Time's Cast and Creators Talk Fairy-Tale Twists Ahead
PaleyFest was in full swing over the weekend as the stars of Once Upon a Time came out to talk characters, costumes, and favorite fairy tales. At yesterday's panel discussion, which followed a screening of their newest episode, Ginnifer Goodwin, Jennifer Morrison, and Prince Charming himself, Josh Dallas, graced the stage with the rest of the cast and creators to talk about their drama and answer questions for fans. The cast kept it comical as they discussed their own theories on how loose ends will tie up, what it's like working with each other, and how filming in front of a green screen all day has them seeing orange all night. The show's creators also revealed a few hints at what's to come this season. Check out the highlights: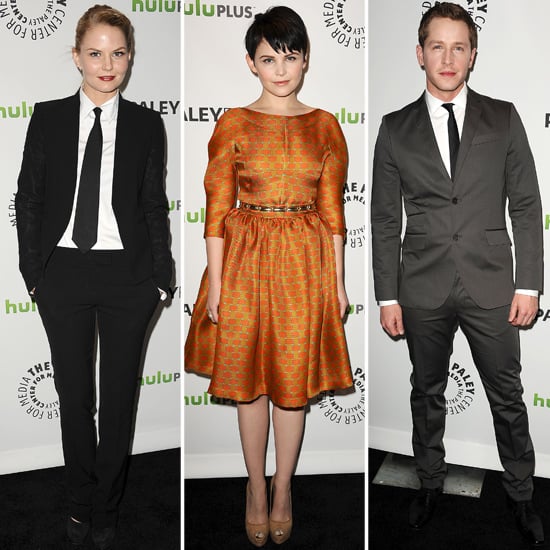 Creator Edward Kitsis talked about the biggest challenges on the show. "Anytime you have anything involving dwarves, fairies, and child actors, it's difficult." He said he attributes the success to having an amazing crew, who he then asked to stand up to be recognized. He also said they were very happy to have gotten their first choices for every part. "Everyone we went to said yes."
Robert Carlyle said he got his Rumpelstiltskin voice from his 6-year-old son. Carlyle said, in his thick Scottish accent, that he couldn't imagine his voice working for the character. One day he noticed his son walking around the house talking in a funny little voice and said, "That's it!"
Goodwin said she has to remind herself before every scene that she is afraid of Rumpelstiltskin. "It's difficult because we all love Bobby so much that I have to remind myself right before we start filming that I'm afraid of this man." She turned to Carlyle and said, "No offense, but it's kind of hard to be afraid of you!" She paused as the crowd laughed at Carlyle's reaction: "You're so lovely and wonderful!"
When asked about what it's like to be shooting in Vancouver, Morrison responded, "Cold and wet," then explained how many heat patches she has to wear under her clothes. The cast told stories about how the cold weather has affected filming and Dallas said, "I'm happy to get to wear leather. All leather."
Lana Parrilla claimed her Evil Queen costumes alone get her "60 percent" into character. "The minute I put on those costumes — I mean, I can't breathe when I'm wearing them — but it really does help me create the character and stay in character. And they just continuously get more elaborate and bigger!"
Creators Adam Horowitz and Edward Katsis gave hints about what is to come this season. "The queen and Rumpelstiltskin will now be speaking out in the open," since they recently discovered they both know the truth. "You'll find out soon who August is and what he's doing in Storybrooke. You'll also learn what Snow White did to piss off the queen very soon."