Once Upon a Time Midseason Premiere Information
3 Things to Know About Once Upon a Time's Midseason Premiere
Once Upon a Time returns from its midseason break this week, and as we saw back in December, Cora and Hook are on their way into Storybrooke to make some mischief. When I visited the set of the show recently, the cast talked about what their entrance into the enchanted Maine town would mean, as well as what else is happening for the fairy-tale characters right now. Read on to find out three big things to expect from the midseason premiere, and if you're a fan, don't miss my fun facts about season two either.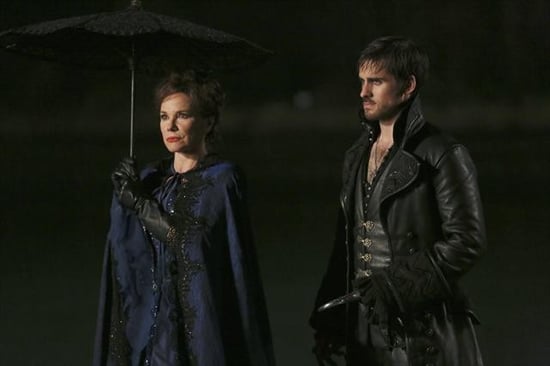 1. Captain Hook and Cora may look funny in Storybrooke.
Colin O'Donoghue (Captain Hook): "He's still in his leather outfit. The jacket's warm, but he's still in that at the minute."
Executive producer Steve Pearlman: "I can tell you that in Storybrooke, [Cora] is wearing her blue gown, and she looks just like Cora in Fairy Tale Land, because that's who Cora is, and I think that's kind of cool. . . . He [Captain Hook] also hangs out on rooftops, so I don't know how you blend in when that's kind of your hangout."
2. Despite their funny look, they're dangerous.
Jennifer Morrison (Emma): "I think Cora is terrifying. To me she is the most terrifying villain we've had, only because she's so sweet and so charming and she's easy to believe and is just completely cold-blooded without any sort of remorse for her actions. She's so just one-tracked about what she wants and how she wants it and how things are going to be, and that is usually at the destruction of everything and everyone around her."
Ginnifer Goodwin (Mary Margaret/Snow White): "We are establishing that Cora makes Snow feel more unsafe than any other villain has, thus far. It is as much how they've written the character as it is that Barbara Hershey (who plays Cora) is so grounded and confident and breathes through her performance in such a way that I feel gives her so much power. It's almost like when she smiles, she's even more threatening, because she is just so confident that she has something to back that smile up."
CO: "The thing about Hook is [that] he has absolutely no fear. If somebody's going to kill him, they're going to kill him; that's the way he is, and he'll fight back. I think at this stage now, it's not about life and death anymore; his motivation is now about revenge."
Find out what else you can expect from the midseason premiere after the jump.
3. The homecoming will be dramatic — and romantic.
Josh Dallas (David/Prince Charming): "Everybody comes home! Of course, a lot has changed, and they're back. There's some new folks that have joined us back in Storybrooke who are causing some troubles, so we're going to have that to deal with. And it's about David and Mary Margaret trying to get their life back together and discover each other again, in a sense, and figure out who they are as a couple and who they are in this world."
GG: "Snow wants nothing more than to explore a provincial, suburban kind of life with Prince Charming after all that she's been through. Of course, you can therefore assume there will be conflict, because not everyone went through what Emma and Snow went through on that journey. "