Once Upon a Time Season Two Cast Interviews
Once Upon a Time Stars Dish About Their Hopes For Season Two
ABC's hit show Once Upon a Time has been renewed for a second season of fairy-tale fun, and no one is more excited than the cast. We caught up with some of the stars of the show at ABC's Upfronts party in New York City and chatted about who they'd be excited to see on the show, and what upcoming ABC shows they're adding to their DVRs.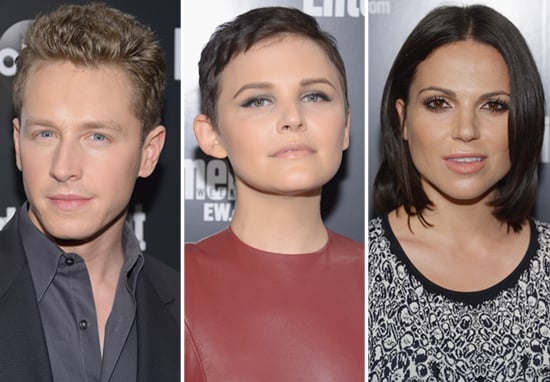 BuzzSugar: Where do you hope your character goes next season?
Josh Dallas (Prince Charming / David): I just hope it gets more and more complex and intricate. I hope they give more of the backstory of Charming and who he is. We still don't know his real name. We don't know the whole story with him and his mother and his father. I think what's great is that we're going to be able to go back and look at all the characters that we've already established and dig deeper and deeper into them, and also have new people from the fairy-tale world.
Buzz: Which characters from the fairy-tale world would you like to see introduced?
Ginnifer Goodwin (Snow White / Mary Margaret): Oh, I'd love to meet Ariel, Rapunzel, Sleeping Beauty — her job might be a little boring though.
JD: I would love to see Jack and the Beanstalk. I would love to see Ariel, The Little Mermaid, there are so many!
Lana Parilla (The Queen / Regina): There have been rumors about a mermaid appearance so I'm sad that I won't be playing it. Every little girl's dream is to play a mermaid. I had all my cousins convinced I was a mermaid when I was little, I was a better swimmer and they couldn't go as far as I could out in the ocean.
See what else the Once Upon a Time stars had to say after the jump.
Buzz: What new shows are you excited about joining ABC in the Fall?
GG: Oh my gosh I'm looking forward to seeing Red Widow.
LP: I'm looking forward to Red Widow with Radha Mitchell and also Zero Hour. I just saw the previews for the new shows and they look phenomenal.
JD: I'm really excited about the Anthony Edwards one, I think it's called Zero Hour. It looked great. The other one was called Red Widow. And obviously season two of Once Upon a Time!