Once Upon a Time in Wonderland Info
How the Once Upon a Time Spinoff Stands Alone and Why Their Alice Is Different
Once Upon a Time in Wonderland is the spinoff to ABC's fairy-tale hit Once Upon a Time, and like most spinoffs, the show will stand on its own — at least that's what creators Edward Kitsis and Adam Horowitz hope. They shared their plans for how they'll accomplish that at TCA, along with the cast, including Sophie Lowe, who plays Alice and assured us that this is not an Alice we've ever seen before. One way Wonderland's shared DNA with Once Upon a Time is evident? It also stars a Lost alum: Naveen Andrews. Read the panel highlights to also find out why he was eager to go down the rabbit hole and play Jafar.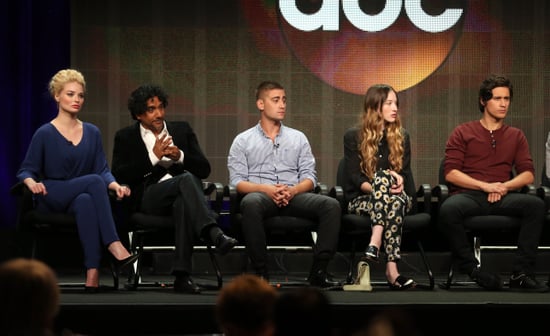 Once Upon a Time in Wonderland is most different from its predecessor in that it is intended to be one "complete tale," which will wrap up in 13 episodes. If it does well, Horowitz said they will tell another story with the same cast, but Kitsis said the main goal is "to tell a very focused, contained story for Alice." Kitsis added that Wonderland "has a lot of mythology that is really not dependent on the mother show," and Horowitz said that it occurs concurrently with Once Upon a Time, but stands alone.
As a brand-new Alice, Lowe told us "she's tough mentally and physically — she can kick ass and look after herself." There's a reason for that: Kitsis and Horowitz said they love writing strong females and never wanted Alice to be a damsel in distress. Kitsis said this version of Alice has had "a bit of a darker past . . . Alice was an ignored girl growing up," but she won't be ignored now: "She is going to go back down that rabbit hole, sword in hand, and find her man." That's another way she's different: she has a man! Alice falls for a genie played by Peter Gadiot, and Kitsis said it'll makes sense "why someone who is curious enough to follow a rabbit down a hole would fall in love with a genie."
Andrews, best known as Sayid on Lost, is playing Jafar — yes, like Aladdin's Jafar. Of his character, Andrews said, "I know he exists as an icon, a representation of evil," but Andrews wants to "give audiences something they haven't seen before." As for why he wanted to participate in a fairy-tale show, Andrews said he'd been playing real people in his recent projects, but "this was an opportunity to do something completely different . . . not bound by space and time." He stressed that as a career goal: "I want to do stuff that's different — completely different, actually."
We've seen Wonderland in Once Upon a Time — and one important Wonderland character: the Mad Hatter, who was played by Sebastian Stan. Kitsis and Horowitz told us how much they love Stan ("we literally run his fan club"), but acknowledge that his schedule is so busy they had to design this season without him. However, they assured us that the Mad Hatter will not be recast and will only ever be played by Stan. "We would move heaven and earth to have him on either show," Kitsis said, so they will "keep that seat empty."