Only God Forgives Review
4 Reasons to Skip Only God Forgives — Even If You Love Ryan Gosling
Whether you're a die-hard Ryan Gosling fan or you've just been looking forward to his second collaboration with Drive director Nicolas Winding Refn, you may want to think twice before seeing Only God Forgives. The überviolent film about a man avenging his brother's death in Bangkok debuted to boos and mixed reviews at Cannes earlier this year, but I figured I could handle it. After all, what's a little bloodshed when Ryan Gosling is involved, right? Turns out, there's a lot more than dangerous swordplay to Only God Forgives — and most of it is painfully slow or horribly twisted.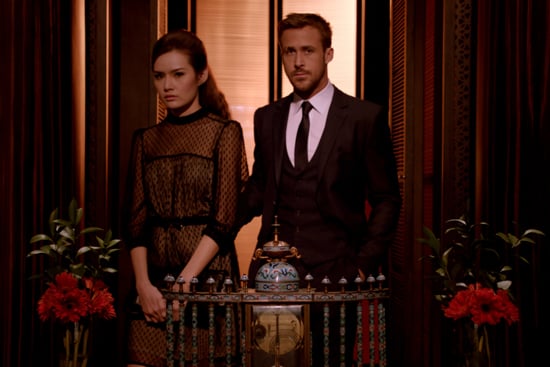 The good news is that I saw the movie, so you don't have to! If you're not yet convinced, then check out all my reasons below. If you still want to see if after reading — well, don't say you haven't been warned.
This is not the Ryan Gosling we know and love. I'm all for actors exploring new creative directions, but this role is just awful. His character Julian is depressing and uninteresting, and not once does he crack a smile. Gosling plays a similarly quiet, stoic character in Drive, but at least there he has a playful side. Here, he's just drab.
The violence is over-the-top and disgusting. This movie starts with the rape and murder of a 16-year-old-girl — then it gets worse. A crooked investigator named Chang (Vithaya Pansringarm) lets the girl's father loose on his daughter's murderer, and the result is gag-inducing. Chang has a penchant for cutting people's hands off with his giant samurai sword, which is also shown. At one point, a man is tied to a chair while his eyes are sliced and a spear is put through his skull. If you're grossed out even reading about it, then you definitely don't want to see it.
To find out more reasons, just read more.
The narrative is terribly slow. The story revolves around Julian, who does little more than sulk around a boxing arena and play sexual games with Mai, a wary prostitute (Yayaying Rhatha Phongam). Once his mother (Kristin Scott Thomas) comes to pressure him into avenging the murder of his brother, the movie gets even slower, with gratuitously long, slow-motion takes. Everything is dark and dingy, and it takes forever to get anywhere.
It's just plain icky. Julian shares a bit of chemistry with Mai, but he has even more sexual tension with his mother. Yes, his mother. The movie keeps you guessing in the have-they-or-haven't-they game, which is really uncomfortable.