No Ordinary Family Pilot Review
Pilot Scoop: No Ordinary Family
My pilot scoops are here to give you a feel for the new TV shows you may be giving a chance to come Fall, and today I'm taking aim at ABC's family drama No Ordinary Family.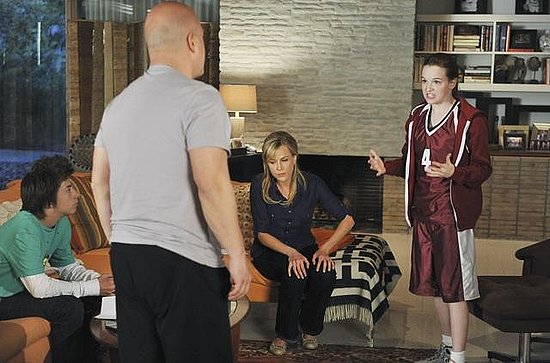 What it's about: The Powell family is a disconnected bunch, and in an attempt to bring everyone closer, father Jim (Michael Chiklis) proposes a vacation to the Amazon. When their plane crashes, a phosphorescence in the water imbues them each with a different super power (for instance, mom Stephanie (Julie Benz) gets speed, and daughter Daphne gets telepathy). In the pilot, we see the family's myriad problems with each other, the development of their abilities, and the struggle to understand what the new powers mean. Two vets from my favorite shows also star: Weeds's Romany Malco and The O.C.'s Autumn Reeser.
Where it works: If I can't have Julie Benz on Dexter, I'll gladly take her here, as a warm, sympathetic mother (who's less clueless than Rita). Plus, the construct of the superpowers as a means to bring this family closer is a definite heart warmer.
Where it doesn't: The pilot is trying to be too many things to too many people. It wants to be a family show and make each character relatable, but instead each one becomes a cliche. Namely, Stephanie is the classic conflicted working mother torn between job and family, and her teenager Daphne is a bundle of angst. We've seen all this before, so they're really going to have to break out of predictable character arcs to keep people interested.
Am I hooked? I have to say, I was only vaguely interested in the pilot, but when the news came out that Twilight star Jackson Rathbone is joining the cast, its stock shot way up. There may be a place for it on my DVR after all.
When is it on: No Ordinary Family premieres on Tuesday, September 28 at 8 p.m.
To see some photos and a preview clip, just read more.