The Vampire Diaries' spin-off The Originals is one of the new series we're most excited about this Fall, because we already know most of the main characters pretty well. Klaus, Elijah, and Rebekah are leaving Mystic Falls for New Orleans, and when the cast hit TCA, we got some juicy new details about the show, but more importantly, we learned a few things about The Vampire Diaries connection, including some hints about a crossover, and what happens to the relationships between characters like Rebekah and Matt and Klaus and Caroline for now. Read on to find out what cast members Joseph Morgan, Claire Holt, Phoebe Tonkin, and Charles Michael Davis had to say, along with executive producer Julie Plec.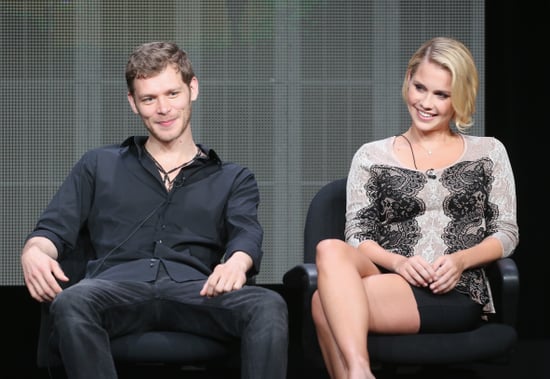 Plec talked about the differences between The Originals and TVD, joking that it's like "We graduated high school and went to college." College of course being a metaphor for New Orleans, where Morgan said, "It's like the lost boys . . . party all night and sleep all day." Both Plec and Morgan asserted that this show embraces being a vampire, rather than struggling with the guilt of it, like we often see on The Vampire Diaries. Happily, Morgan promised "vampire parties" and "crazy indulgence." Bring it on!
With the Mikaelson family leaving Mystic Falls, what will happen to all the relationships they built there? Holt told us that Rebekah's romantic involvement with Stefan is probably over, and as for Matt, "I think she realized her bond with her family is stronger than any fantasy she has about marrying the high school football star." But don't put a stake in them just yet: "I hope we'll be able to go back and forth and I can still have a little dalliance in Mystic Falls every now and then."
Morgan talked about Klaus and Marcel's dynamic: "We're used to Klaus coming in with a bull-in-a-china-shop mentality and dominating like a one-man army, but Marcel has an army . . . I don't know what his secret weapon is, but I know he has control of all the magic in the city." That'll make Klaus be more of a backstabber, Morgan said.
Of course Rebekah has a history with Marcel, the vampire king of New Orleans. "You may see something there," Holt said about a romantic history, and then Plec hinted not so subtly that something will be revealed as soon as episode two.
So what about The Vampire Diaries crossover? Plec's first concern is to "establish a show that works as its own," but "we don't want to pretend like those relationships never existed." However, as the story dictates, she said that may be when we see a crossover, especially to address "fan favorite relationships" (which, obviously, has to mean Klaus and Caroline). But don't expect that too soon: "That'll be down the road, and we'll see how we can make it work," Plec said.
If you watched The Vampire Diaries episode that served as The Originals pilot, you know that Hayley is pregnant with Klaus's child, and that problem is not going anyway anytime soon. Plec said the pregnancy issue will be "front and center" for much of season one, and Tonkin said, "I don't think Hayley will even be showing for a while," and joked that she didn't want to be wearing a baby bump just yet this Summer: "It's hot in Atlanta!"
While the show is set in New Orleans, it will shoot mostly in Atlanta, where The Vampire Diaries is filmed, because they have crew members who can work on both shows. Production will occasionally go to the Crescent City, though: "New Orleans is where we will go to get the true authenticity as often as we can," Plec said.