Oscar Nominations 2012 Opinions
The Oscar Nominations: Snap Judgments
The Oscar nominations were announced this morning, and now that we've had time to digest the news, we have a few reactions to share. From the positive and excited to the slightly disappointed, check out our thoughts on the 2012 Academy Award nominations, and be sure to share yours too.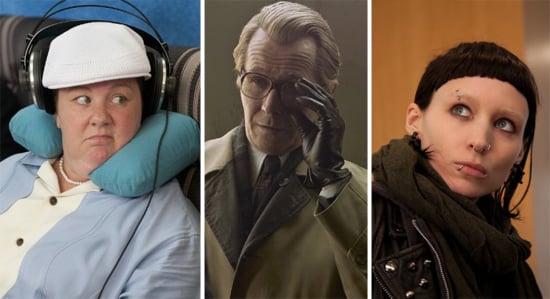 It's rare for a comedy to be able to compete with all of the heavy dramas of award season, especially an R-rated comedy, but Bridesmaids impressed us by not just nabbing a supporting actress nomination for Melissa McCarthy, but for best original screenplay for Kristen Wiig and Annie Mumolo. Nice work, ladies!
We were happy to see acting nominations for Nick Nolte in Warrior and Gary Oldman for Tinker Tailor Soldier Spy. Both men have been left off a lot of lists (like the Golden Globes), but we're so glad that they pulled in Oscar nominations since these were two performances we felt strongly about.
The Girl With the Dragon Tattoo may have been passed over in most major categories, but its lead actress, Rooney Mara, was still recognized. The Academy seems to love its ingénues, and we're glad they chose Rooney for her brave breakout role.
Extremely Loud and Incredibly Close has suffered from some bad reviews, but not from the Academy: it scored a best picture nomination and a nod for supporting actor Max von Sydow. We liked him in the role, but it's still a surprise to see the movie come up so strongly.
The Tree of Life was a similar surprise, since the Summer release had polarized reviewers and audiences and didn't seem to have much award season steam. But the movie still managed to join the race with nods for best picture and best director for Terrence Malick.
To read some more of my Oscar snap judgments, just keep reading.
While we thought it was odd that there were only two nominations for best song this year, we aren't that hung up on it, because one of them is for The Muppets! We were disappointed when there was no love for the film or its songs at the Golden Globes, but things feel like they've been set right with Bret McKenzie's nom for "Man or Muppet." Our only quibble is that we would have liked to have seen "Life's a Happy Song" in there too.
The snubs we were most disappointed about were for Albert Brooks for Drive and Shailene Woodley for The Descendants. Both names have been showing up a lot this award season, and they were two of our favorite performances this year, so we're deflated for them.
Other names we were surprised to see left out were Leonardo DiCaprio for J. Edgar and Michael Fassbender for Shame. But don't worry, there are still plenty of handsome men in the best actor category.
We're so happy to see that Jonah Hill's award season streak has continued with the Oscars. We loved him in Moneyball, so we're psyched that the young actor made it all the way to the Academy Awards. And though we weren't that surprised to see Brad Pitt with a nomination for best actor for the same film, we're excited all the same that they might be bringing their excellent chemistry to all those Oscar events.
And finally, it's time for the Harry Potter and the Deathly Hallows Part 2 lament. They received a handful of technical nominations, but we're still sad the series got no love for its final film. You're still best supporting actor in our hearts, Alan Rickman.
Now that you know our thoughts, what are your reactions to the nominations? Was anyone snubbed that you hoped would be recognized, or is there anyone you think is totally deserving? Speak up in the comments below!