Oscar Party Ideas With The Descendants Theme
How to Throw a Descendants-Themed Oscar Party
We're inching steadily closer to the Oscars, which means it's time to start planning for the big night! If you're going to tune in, why not invite over a few friends and host a festive bash? If you're pulling for George Clooney, best picture nominee The Descendants is a perfect place to draw some inspiration, especially if you're one to dream of tropical climates. Here are a few tips for planning your luau, and don't forget to fill out a ballot with your Oscar picks for a chance to win an iPad.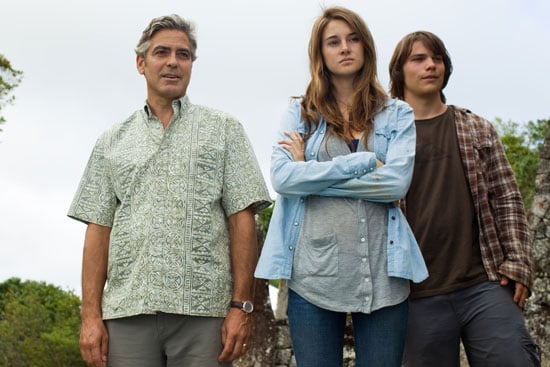 How to decorate: Hawaii plays a huge role in the film, so go all out! Lots of flowers (real or fake) in splashy colors will punch up your place, and fake palm trees will add a nice touch. If you want to go the extra mile, set up an indoor kiddie pool and float lilies and candles on it. For additional seating, use beach chairs or even towels.
How to dress: Clooney's character Matt dresses almost exclusively in silly Hawaiian shirts, so those are a must (the uglier, the better). His daughter Alex (Shailene Woodley) spends most of her time in a bikini, which you can cover up with jean shorts and a button-down. If it's too cold for Summer clothes in your neck of the woods, a lei should suffice.
What to serve: Pretty-colored cocktails with umbrellas (think daiquiris, Mai Tais, and pi·ña coladas). If you want to go full throttle, a suckling pig would show your commitment to the theme, or you can go with a pineapple upside-down cake.