Oscar Party Ideas With War Horse Theme
How to Throw a War Horse-Themed Oscar Party
If you're throwing an Oscar theme party this Sunday, you might as well look to one of the nine best picture nominees for inspiration. Up for the honor is Steven Spielberg's War Horse, and though it might not seem as glamorous a party idea as, say Midnight in Paris, a little creativity makes the sprawling European great party fodder.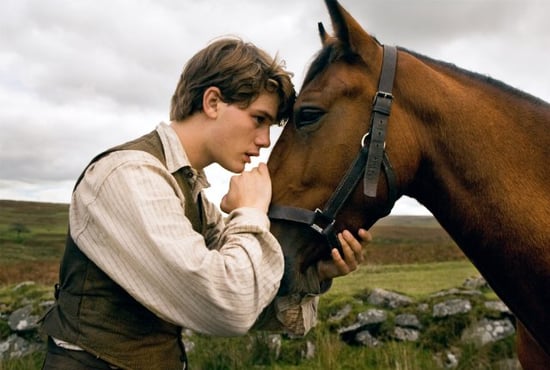 How to decorate: Go for decor inspired by the English countryside, where Albert grows up and he trains Joey the horse. This means wildflowers in jars and vintage vases, lots of baskets, and rustic wood pieces.
How to dress: While you're more than welcome to don a horse costume, I'd merely pay homage to Joey and wear equestrian-inspired clothes like riding boots, skinny pants, and a blazer.
What to serve: Traditional English fare like fish and chips, or tea and crumpets. For your drinks, Beefeater ("the quintessential English spirit") has put together a gin cocktail inspired by the movie, called "Take the Reins." To get the recipe, just keep reading.
Take the Reins (from Nick Van Tiel, US Brand Ambassador for Beefeater Gin)
Ingredients
2 parts Beefeater London Dry Gin
2 parts lime juice fresh
1 part ginger beer
1 part sugar syrup
6-8 mint leaves
Mint sprig to garnish
Directions:
Shake all ingredients, except the ginger beer, vigorously with ice and strain into an ice-filled Collins glass. Top up with ginger beer and garnish with a sprig of mint.