Oscar Party Plans
Buzz In: What Are Your Oscar Night Plans?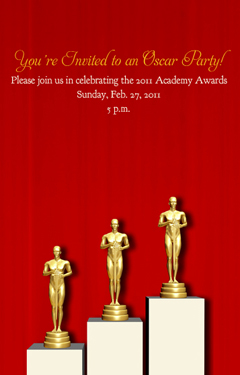 As we prepare for the Academy Awards on Sunday, those of us here at Sugar HQ will be online — and live on the red carpet! — bringing you a play-by-play as the stars make their grand entrance and take the stage to accept awards. But what will you be up to?
Are you headed to an Oscar bash? Maybe you're even hosting one, using our party ideas as inspiration. In past years, I've typically spent the evening with a few friends (and a glass of wine). We'll debate the best dressed, talk about the night's snubs, and munch on a spread of appetizers. It's always fun, though I'll confess I'm also just as happy seeing the show at home in my pajamas. Share your plans in the comments!
And don't forget that no get-together is complete without a ballot. Click here to print out your own, and fill out our online version for the chance to win a Samsung TV.
Invite image courtesy of Pingg