Oscar Winners 2013
Announcing the 2013 Oscar Winners!
The 2013 Oscars have wrapped, all the golden statues have been handed out, and we have the full list of winners below. Argo went home with the top prize of best picture, and while many of award season's heavy hitters won tonight, like Daniel Day-Lewis and Anne Hathaway, there were also some surprises, like Christoph Waltz winning best supporting actor and Ang Lee winning best director.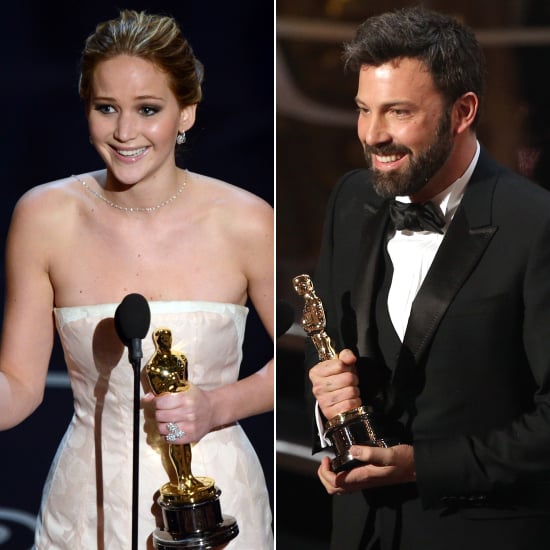 Vote on whether you agree with all the winners here, and get the full list after the jump.
BEST PICTURE
Argo
BEST DIRECTOR
Ang Lee, Life of Pi
BEST SUPPORTING ACTRESS
Anne Hathaway, Les Misérables
BEST SUPPORTING ACTOR
Christoph Waltz, Django Unchained
BEST ACTRESS
Jennifer Lawrence, Silver Linings Playbook
BEST ACTOR
Daniel Day-Lewis, Lincoln
BEST ORIGINAL SCREENPLAY
Django Unchained, Quentin Tarantino
BEST ADAPTED SCREENPLAY
Argo, Chris Terrio
BEST FOREIGN FILM
Amour
BEST ANIMATED FEATURE FILM
Brave
BEST ACHIEVEMENT IN PRODUCTION DESIGN
Lincoln
BEST ACHIEVEMENT IN CINEMATOGRAPHY
Life of Pi
BEST ACHIEVEMENT IN COSTUME DESIGN
Anna Karenina
BEST DOCUMENTARY FEATURE
Searching For Sugar Man
BEST DOCUMENTARY SHORT SUBJECT
Inocente
BEST ACHIEVEMENT IN FILM EDITING
Argo
ACHIEVEMENT IN MAKEUP AND HAIRSTYLING
Les Misérables
BEST ORIGINAL SCORE
Life of Pi
BEST ORIGINAL SONG
"Skyfall" from Skyfall, music and lyric by Adele Adkins and Paul Epworth
BEST ANIMATED SHORT FILM
Paperman
BEST LIVE ACTION SHORT FILM
Curfew
ACHIEVEMENT IN SOUND EDITING
Tie: Zero Dark Thirty and Skyfall
ACHIEVEMENT IN SOUND MIXING
Les Misérables
ACHIEVEMENT IN VISUAL EFFECTS
Life of Pi