Outlander Cast at PaleyFest 2015
Drinking Games and a Round of Kill, Marry, Screw Fueled a Raucous Outlander Q&A
The cast and creators of Outlander traded the highlands of Scotland for the palm trees of LA last night at their PaleyFest screening and Q&A. Sam Heughan, Caitriona Balfe, and Tobias Menzies joined Outlander author Diana Gabaldon and showrunner Ron Moore for a panel that felt more like a party.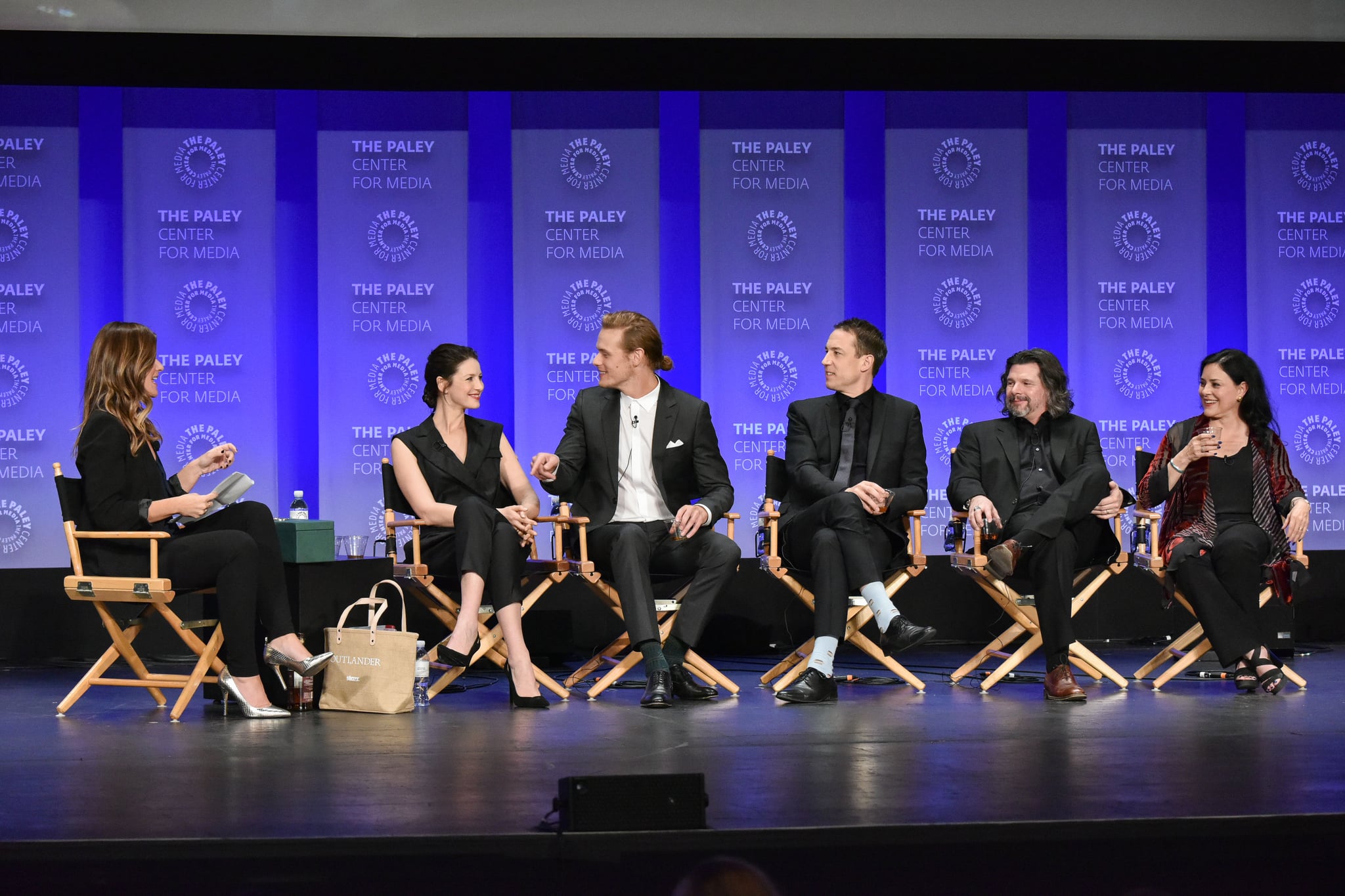 After sharing an early showing of the upcoming midseason premiere, which will debut on Starz on April 4, the Q&A kicked off with a drinking game — whiskey was the liquor of choice, of course. As the night went on, the cast was also challenged to a spin on the Newlywed Game. At one point, Sam and Caitriona were both asked to write down a word or phrase that Caitriona often says. When they flipped their whiteboards around, Caitriona had written "Sh*t!" while Sam had written "Make Mine a Double," earning a lot of laughs from the crowd. Caitriona also earned a few whistles from the audience when she was forced to play Kill, Marry, Screw with Outlander characters. "No offense, Frank, but I'd probably have to screw Jamie," she said. Speaking of Frank, last night we learned that we won't be seeing him again in season one, but Tobias promised he'll be returning in season two. Read on for some more of the funniest moments and biggest reveals from the night.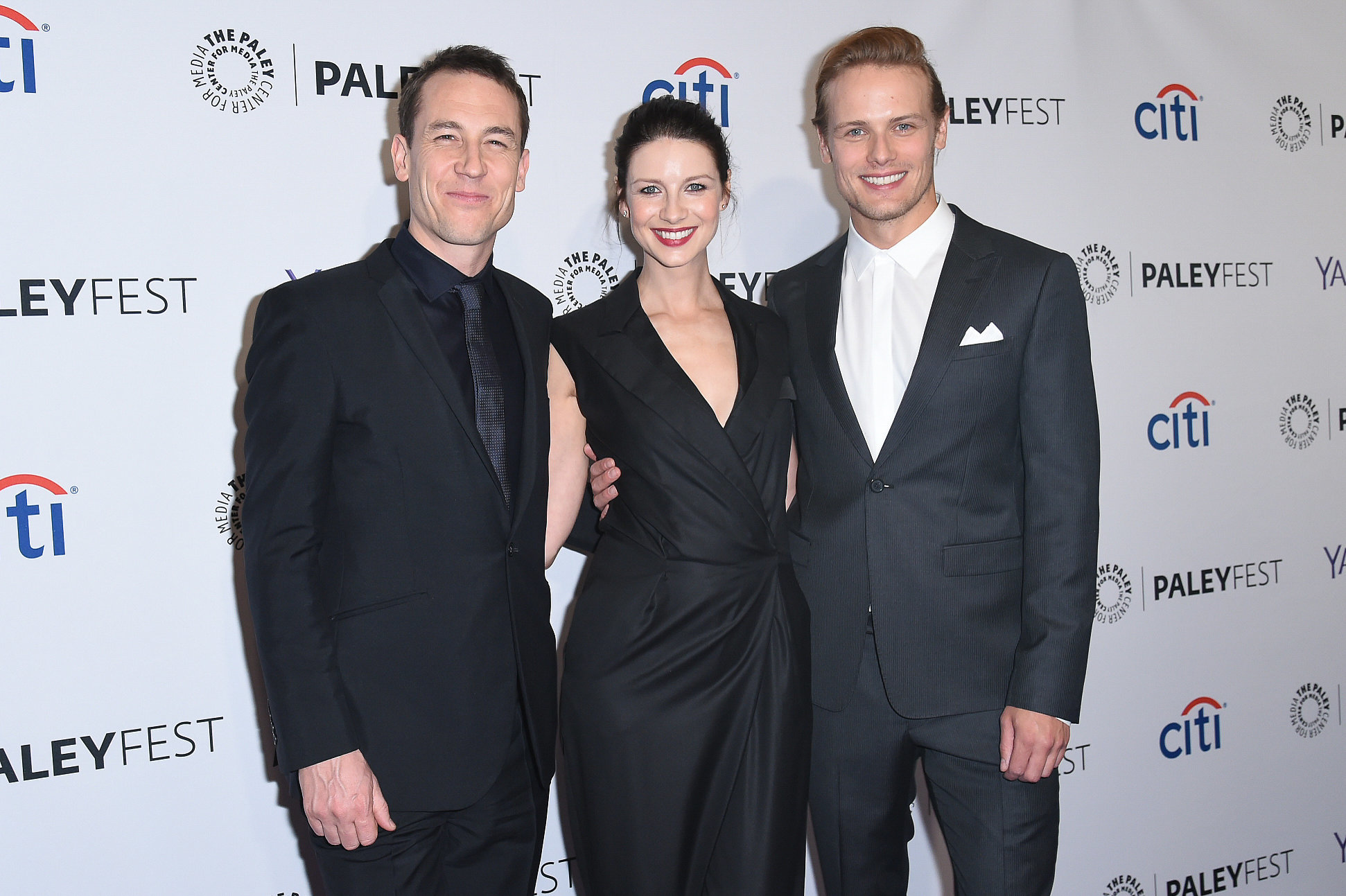 Sam and Caitriona on What Their Families Think of Their Sex Scenes
"Outlander is out in Ireland, so it's aired, and it's quite funny because I didn't actually know whether my father had seen them or not because I heard nothing." — Caitriona
"Oh, he's seen them." — Sam
"Crickets from my father!" — Caitriona
Caitriona on When She Knew She and Sam Were a Good Match
Sam was cast as Jamie before Caitriona came on board to play Claire, but Ron, Diana, and the two of them all agreed that they had an instant spark. "I definitely think from the moment that I met Sam, when we had our chemistry test — which I always think is a funny name — do they have a barometer in there? You've passed the 50 mark!"
Diana on Being Sold on Sam as Jamie
"When I saw Sam it took just 10 seconds . . . he doesn't look anything like his photos, he looks much better," Diana good-naturedly teased. She also clarified a past comment she made about Sam: "Grotesque doesn't mean hideous . . . it just means really odd looking."
Caitriona on Seeing Tobias Transform From Frank Into Black Jack
Playing dual characters is an odd experience for Tobias, but it sounds like it's strange for his castmates as well. Caitriona recalled the first time he transformed into Black Jack Randall: "I do remember the first day . . . we were goofing around, we had this great time, we were driving around in this vintage car. We got to the first time where he was playing Black Jack, and we had that scene where I meet him by the water," she said. "And Tobias is all quiet and off in his own thing, and I was like, 'Where has my buddy gone?' But the rest of the time he's just the same idiot as he always was."
Sam on His Upcoming Scenes With Tobias
As fans of the book series know, the second half of the novel — and of the TV show — treads on some dark, violent territory. "I think our relationship at the very end of this season is in a really strange but interesting place," Sam said to some laughs from the crowd. "Satisfying . . . " Then he took a long drink of whiskey.
Diana on How Sam and Tobias Handled Their Upcoming Prison Scenes
Diana told us she thought the show handled the darker elements of her novel "perfectly" when we caught up with her on the red carpet before the panel: "I've never seen two people do such courageous things on screen before."
Ron on Staying True to — and Deviating From — the Books
Outlander is the first series showrunner Ron Moore has adapted — his previous TV efforts were all based on original ideas and material. He said that fact presents some unique challenges. "As you do the process of adaptation, you just naturally start making changes because they are different forms. So you're making changes along the way, and at a certain point, what you're doing on screen obligates you to continue a certain way. We cut to Frank's POV at one point last season . . . but we do want to stay in that lane. That's still the mandate. It's a trickier thing, and this is my first adaptation, so I can't tell you I have a master plan for what season five or season seven [will look like]," Ron said, eliciting a huge cheer from the crowd. "The intent is to stay as true to the story as we can."