Outlaw and Chase New NBC Dramas TCA Panel Quotes
NBC Brings the Drama to the TCA With Chase and Outlaw
NBC's press tour for the Summer TCA got us up to speed with new Fall shows, which included the procedurals Chase and Outlaw. The two dramas introduced stars like Jimmy Smits, Kelli Giddish, Cole Hauser, and Jesse Bradford, and gave us a peek at the two new series.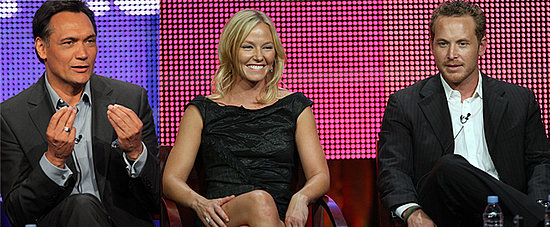 On Outlaw, Jimmy Smits plays a supreme court justice fed up with the system who quits to make changes from the inside out. Exec producer John Eisendrath said that Smits's character Cyrus Garza will go to a different city each week and take up a different case. He promised that we'd be looking at "hot-button issues" while Garza looks out for the little guy, fighting against the system.
Smits described his character as a man who "is outside the box in a lot of different ways," who makes a radical switch from his gambling, playboy ways. Besides calling it "a wonderful meal for an actor," Smits said that the role is "much more loose and comfortable" than anything he's played in the past.
Most famous exec producer? Conan O'Brien. Sadly, fellow producer David Kissinger said that O'Brien "isn't actively involved in a day-to-day way," but that "he's thrilled at the opportunity" to be a part of the show.
To hear about new series Chase, just read more.
Super producer Jerry Bruckheimer is behind this US marshals-after-bad-guys drama, and producer Jennifer Johnson ascertains why the show is set in Dallas, Texas: "This is a task force of cowboys," she said, and Texas "captures the flavor of the show: big blue skies, cowboys, the reintroduction of the American hero." In the words of star Amaury Nolasco, "everything's bigger in Texas."
Adorable star Kelli Giddish looks like a delicate Southern belle, but her tales of the training make her sound like she's tough as nails. "I was sprinting the entire first day," she said, and had told everyone that first day that "either the sun was going to go down first," or she was going to. Spoiler alert: she beat the sun. Costar Cole Hauser backed Giddish up: "she's an athlete, this one."
Producer Jonathan Littman said that each episode of the show, which focuses on chasing one villain, is "not just about violence, it's not just about bloodshed," but Giddish's character Annie is definitely a true American hero. Giddish said Annie is the leader of the team, who's "blunt, [with a] huge heart, huge soul."
Jesse Metcalfe's character is the new guy, "the green bean" who has to prove himself, while movie vet Hauser plays Jimmy, a man who "grew up dreaming of being in law enforcement . . .a true American, [he] loves his country."