Outsourced NBC Comedy Pilot Review
Pilot Scoop: Outsourced
It's time for the latest of my pilot scoops for the new Fall season of TV, and this time I'm going for another comedy: NBC's Outsourced. Here's what you need to know about the show that will be taking Parks and Recreation's place for the first half of the season.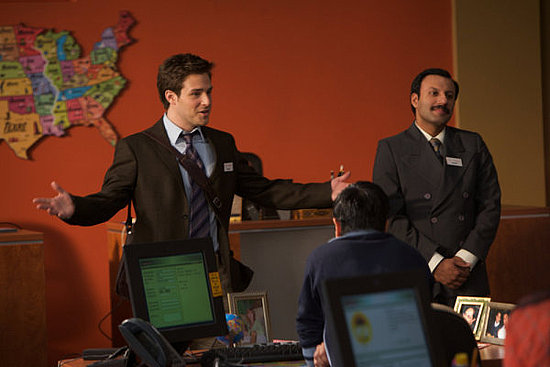 What it's about: Ben Rappaport plays Todd, a call center employee who goes to work one day to find out that he and his office have been outsourced — to India. In turn, he's transplanted to Mumbai to manage a customer service center for novelty items. The show revolves around Todd's fish-out-of-water situation in India, and the group of idiosyncratic co-workers he befriends there.
Where it works: Rappaport is a charming, new face whose naivete and discomfort in a strange land is endearing. Plus, the showrunners assuaged my fears a bit at the TCA when they said the show would be upbeat and not offensive.
Where it doesn't: Right now there are just too many jokes about Indian culture (like making fun of characters' ethnic names) and it's kinda uncomfortable.
Am I hooked? Not exactly. I think Outsourced will have to work to prove itself, but it could be like other NBC comedies Community and Parks and Recreation, which only got better with age.
To watch a preview and see some pics, just read more.