Oz the Great and Powerful Movie Review
Oz the Great and Powerful: Neither Great Nor Powerful
As a prequel to the beloved 1939 film The Wizard of Oz, Oz the Great and Powerful has a rich well of nostalgia at its disposal, and director Sam Raimi harnesses it to provide a foundation for a fresh new angle. Unfortunately, the new movie set in the land of Oz is all flash and no substance. James Franco plays small-time magician Oscar Diggs, who goes by "Oz" and is more concerned with fame and money than with other people. When the Kansas resident gets swept into a tornado (sound familiar?), he finds a strange new world that desperately needs to be saved from a mysterious wicked witch. Though Oz feels like an impostor, he finds a new side of himself that wants to help, thanks to some new friends and a beautiful witch, Glinda (Michelle Williams).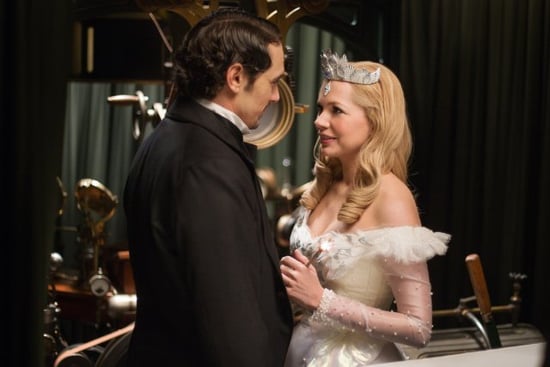 The good witch is contrasted by two other witches, Evanora (Rachel Weisz) and Theodora (Mila Kunis), who both have streaks of wickedness, but we don't know who the bad witch is until an early twist reveals her. The witches, with their magic and unparalleled beauty, are the most fun characters to watch, but this is supposed to be about Oz — and his story is not compelling in the least. Find out what else I thought of Oz the Great and Powerful after the jump.
The movie lacks heart — one of the most important ingredients, literally and figuratively, in the original Wizard of Oz, and in any family film in general. We're supposed to believe in a romance between Oz and Glinda, but in addition to Franco and Williams's lack of chemistry, the romance doesn't really develop; the audience is simply expected to accept them. The other relationships we're supposed to be invested in, like Oz's friendships with the flying monkey Finley (voiced by Zach Braff) and China Girl (voiced by Joey King), are thin and superficial.
Except for the wicked witch's reveal, everyone is who they seem to be on the surface. The good are good and the bad are bad, but we're never given an explanation for why. Aside from the characters being one-dimensional, there's almost no character development, unless you count a witch turning evil for a very dumb reason and Oz going from shallow to a little less shallow.
The one strength this film has is its special effects. Raimi has created a visual delight, using the 3D to its full potential. Images like Glinda floating in a bubble and the wicked witch exploding onto the scene are awe-inspiring, and certain elements, like the evil flying monkeys, are more terrifying when they come directly at you.
Raimi pays homage to the iconic visual effect of the original — when the movie goes from black and white in Kansas to color when the wizard heads to Oz. Tributes like that make you feel a bit sentimental, but they also backfire in reminding you how much better the story is in the older film. Even with shinier colors, Oz the Great and Powerful still feels dull.