Pan Am Panel Details at the 2011 TCA
ABC's Pan Am Provides Wish Fulfillment, Escapism, and More Female Empowerment
The '60s are back with not one, but two shows this year, and ABC presented its drama Pan Am at the TCA over the weekend. The series takes us back to 1963 and follows the jet-setting lives of the pilots and stewardesses who made the airline so iconic. Like NBC's The Playboy Club, the cast and showrunners (including Christina Ricci) had to field a lot of questions about how women are portrayed on the show, and what makes the series stand apart from Mad Men.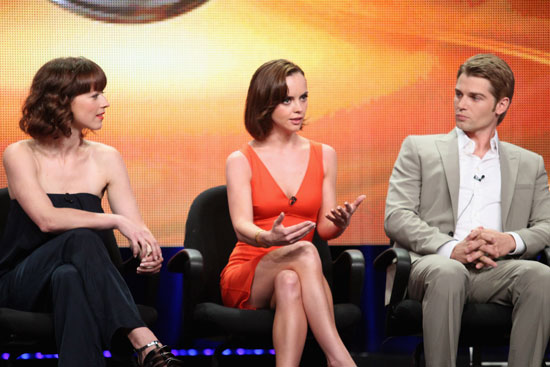 It was pretty cool to learn that executive producer Nancy Hult Ganis was actually a

Pan Am

stewardess herself! The ladies who play flight attendants on the show credited Ganis for helping them with their research and prep, and Ganis said the show came to fruition because she had so many exciting stories she wanted to share from her own experiences and called the stewardesses "pioneers in a lot of ways."
The terms "wish fulfillment" and "escapism" came up more than once during the panel, and not just because working for the airline was a coveted job. Part of the fun of the show is seeing how the whole process of flying has changed over the years. As producer Jack Orman noted, "It's almost like science fiction. You go through no security; there's a lounge with drinks."
Ganis added that the job of a flight attendant was so different than it is now. She said, "We were treated as we were hostesses of a dinner party, and it was a movable feast. We would become friends with our passengers; we would know them by name. We would help them plan their trips. Because the flights were longer and there was no entertainment, it was much more friendly and interactive. Nearly 80 percent of Pan Am crews were from all over the world. That was part of the discovery too — for the girls to get to know each other. It informed us in ways that even my education did not."
To see what sets the show apart from Mad Men and Christina Ricci's take on playing a stewardess, just read more.
Christina Ricci added that an integral part of playing a Pan Am stewardess is expressing the excitement that they felt. She noted that the cast is playing these "glamorous sort of symbols" that have so much pride in welcoming these passengers, and so much pride in travel.
As for whether or not the stewardesses were being exploited for their looks, Ricci added, "There is this misconception because, in reality, the job allowed these women to have a freedom that they weren't given in a regular role in life at this time. Yes, they had to pass through girdle checks and grooming checks, but they were then allowed to travel freely and see the world in a way that other people didn't get to see and be in charge of their own lives in a way that other women didn't have."
Ricci also stated that any misconceptions about the women will be gone with five-10 minutes of watching the show, and that "it's actually kind of great for young women and girls."
Producer Thomas Schlamme was quick to shoot down any connection between Pan Am and Mad Men. He noted that "television is just execution, not time period" and that Pan Am "has nothing to do with Mad Men" other than the fact that they both happen to be set in the '60s.