Pan Am Pilot Preview
Pilot Scoop: Pan Am
The success of Mad Men has inspired TV to go back to the '60s, and the new Fall slate has a couple of contenders set in the same era as AMC's hit. ABC has the drama Pan Am, set in the friendly skies and the city the legendary airline was based out of: New York. The series, which premieres tonight, follows a group of stewardesses (they weren't yet flight attendants, you see) and pilots as they navigate their love lives and their travel routes — with a dose of some Cold War mystery thrown in for good measure.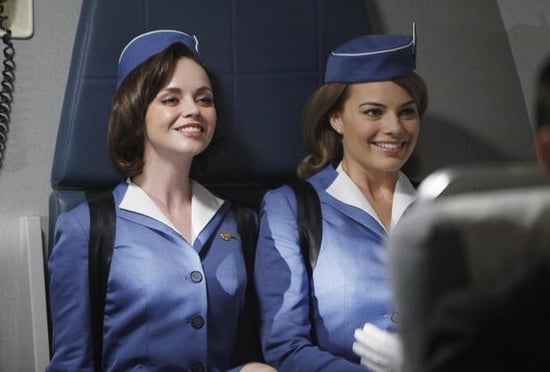 What it's about: The core group of stewardesses is led by bohemian Maggie (Christina Ricci); Kate (Kelli Garner), a young woman getting caught up in the spy game; and her sister, Laura (Margot Elise Robbie), a beautiful girl escaping a prosaic life in the suburbs for a career.
Where it works: The pilot plants the seeds of some entanglements (both romantic and otherwise) and a few secrets under the surface without revealing too much. Plus, they manage to make the airline industry fascinating and glamorous, which would probably not be the case if it were set in present day.
Where it doesn't: Ricci is the most recognizable face in the cast, but her character seems the least interesting of the bunch — bad news if she ends up getting the most focus.
You might like this show if: You like to imagine that the life of a jet-setting flight attendant is exciting.
When it's on: Sundays at 10 p.m. on ABC.
To see some photos and preview of Pan Am, just read more.
Photos copyright 2011 ABC, Inc.